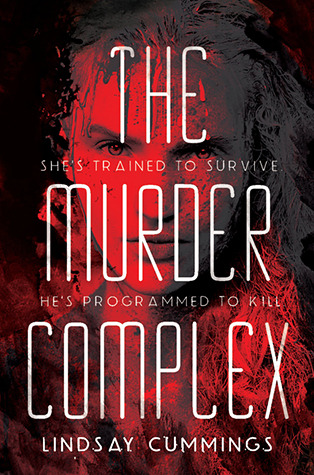 pic and description taken from Goodreads
An action-packed, blood-soaked, futuristic debut thriller set in a world where the murder rate is higher than the birthrate. For fans of Moira Young's Dust Lands series, La Femme Nikita, and the movie Hanna.
Meadow Woodson, a fifteen-year-old girl who has been trained by her father to fight, to kill, and to survive in any situation, lives with her family on a houseboat in Florida. The state is controlled by The Murder Complex, an organization that tracks the population with precision.
The plot starts to thicken when Meadow meets Zephyr James, who is—although he doesn't know it—one of the MC's programmed assassins. Is their meeting a coincidence? Destiny? Or part of a terrifying strategy? And will Zephyr keep Meadow from discovering the haunting truth about her family?
Action-packed, blood-soaked, and chilling, this is a dark and compelling debut novel by Lindsay Cummings.
I wish I was good with words. I wish I could write an eloquent review to let you all know what I feel about the books I read...but I am not :). So even though it's easier to write my feelings down, they always sound better in my head than they do when I see them on paper. hehe. I wish you could all just see inside my head. I am a great story teller there...hehehehe
I have seen this book on so many blogs lately and it totally grabbed me by the descriptions. I
pre-ordered it, and it showed up at my house this week. Days when books come in the mail always make me so happy :). It's like Christmas.
Meadow reaches the age where she is eligible to get a job to get more rations for her family. She knows that going in for this so called interview it would mean only one person would come out alive and have a job. Can you imagine the pressure? I kid. I am sure none of us have had to go into an interview and had to kill the opposition. If you have, then shame on you ;). Killing is bad ;).
Meadow had been trained most of her life by her father on how to fight and stay alive. She is an awesome fighter. Her fight scenes always had me on the edge of my seat.
Zephyr is a Ward, and a nobody. Yet he keeps blacking out and when he comes back to himself he realizes he has committed a horrible crime. Killing is just part of life in his world. He works every day with his friend Talan to clean up the dead and dispose of them. Seriously, that has to be on the list of the "worst jobs ever". ;). Zephyr goes to the mourning place where all the dead are buried and apologizes to all those he knows he has killed. The weight gets a bit much and he tries to take his life. This is where Meadow and Zephyr first meet.
From then on the story just gets more and more exciting. I think there is more to Zephyr than meets the eye. He is "Essential" and I am hoping the next book explains more about what that means. There are so many unanswered questions dang it...hehe. This is going to be a fantastic series. In my opinion.
The Murder Complex is set up to make sure that the population kind of takes care of itself. There is no disease and so no one every gets sick and dies. The Murder Complex is put in place to help "slim" down the population. Really? It's so sad, but the story is so great.
I do have to admit the beginning was a little slow for me. I thought that it didn't explain things well enough and I had to really think about what was going on. The book does go on and explain, but I was just a little confused at the beginning. It turned out awesome though, and even though it was slow it was interesting. Thank heavens. hehe.
This book is exciting, thrilling, interesting, and kept me on the edge of my seat a lot of the time. Especially towards the end. NOW, I must wait yet again, to find out what is going to happen. Too many unanswered questions. I will probably dream about an ending tonight. hehe.
I really enjoyed this book, and am happy that I bought it. I had to put other things down that I was reading, because it was staring at me on the bookshelf just begging to be read. I had to oblige :).
I really don't quite know what else to say, because everything I want to say will spoil the book for you. If you get a chance to read it I would love to know what you thought about it.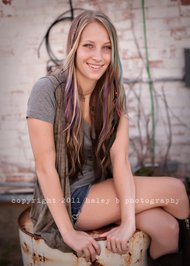 pic and bio taken from Goodreads
Lindsay Cummings is the 20-year-old author of THE MURDER COMPLEX, as well as its sequel, coming 2014 from Greenwillow Books/HarperCollins, and the MG trilogy THE BALANCE KEEPERS, coming Fall 2014 from Katherine Tegen Books/HarperCollins.
Lindsay deals with chronic fatigue, can't get enough of her two pesky German Shepherds, wolf cub, and two horses. She's still waiting on her letter from Hogwarts--it was probably just lost in the mail. You can follow Lindsay on twitter @lindsaycwrites