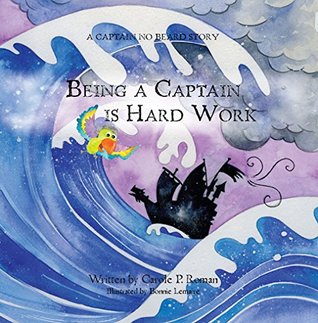 pics and descriptions taken from Goodreads
IF YOU WERE ME AND LIVED IN ITALY
-
Join Carole P. Roman as she visits the Republic of Italy. Learn what it is like to live in Rome, see the famous architecture, celebrate a favorite holiday and discover popular names for both boys and girls. Be fascinated with it's diverse and rich history and colorful traditions. On the way, you might learn a word or two in Italian!
IF YOU WERE ME AND LIVED IN EGYPT -
Join Carole P. Roman when she visits the stunning and exciting land of Egypt in the newest book of her informative series. Learn why this ancient land often called "the cradle of civilization." Travel down the Nile to discover Egypt's fascinating history. See the land through the eyes of a youngster like you and understand what life is like in this exotic place. Don't forget to look at the other books in the series so that you can be an armchair world traveler.
BEING A CAPTAIN IS HARD WORK -
Captain No Beard is determined to travel to Dew Rite Volcano. He won't listen when Mongo predicts a storm or Linus indicates they are headed in the wrong direction. He insists Polly cook in the galley even though the seas are getting rough. What's a crew to do with a stubborn, know-it-all captain?
Will they convince the captain he is barreling headlong into danger, or will Captain No Beard jeopardize both his safety and the crew's with his single-minded determination to go where he wants?
CAN A PRINCESS BE A FIREFIGHTER? -
Two little girls pepper their father with questions about whether or not they can be a profession and still be a princess. Motivated by her granddaughter's fascination with all things 'princess, ' Carole P. Roman penned this adorable poem celebrating all the wonderful possibilities waiting ahead for them
ROCKET-BYE -
Carole P. Roman travels to the stars, orbiting the moon and rocketing past planets in this adorable journey to the far reaches of the galaxy. A beautiful bedtime poem, this verse is sure to delight any child before they go to sleep.
IF YOU WERE ME AND LIVED IN ITALY - I love these books. They are so great for little kids. It's a great way to expose them to new countries, and cultures! It's fun to learn the words for simple things like Mom, Dad, Grandma, and Grandpa. You learn about what they are famous for. It's just a great book to expose little kids to new cultures.
IF YOU WERE ME AND LIVED IN EGYPT -
Another book in Roman's series of countries. Each ones of these books has interesting facts about the country. Egypt is a transcontinental country, which means is it both in Africa and Egypt. Just fun facts. Sweet, short stories for kids. Full of fun facts!
BEING A CAPTAIN IS HARD WORK -
I love the stories of Captain No Beard. They always teach a lesson and have little facts in them as well. They keep kids interested in fun facts about the world, through wonderful illustrations, and adventures. This particular Captain No Beard teaches about clouds, and what kinds there are, and stubbornness. Brings kids attention to being willing to listen to others. Sweet, fun, beautiful book.
CAN A PRINCESS BE A FIREFIGHTER? -
Again Roman teaches a wonderful lesson in this book. I LOVED this book. LOVED IT! This book teaches little girls that they can be anything they want if they just put their minds to it. I love stories that teach kids that they can dream and set goals and have a good time doing it. Such a sweet, sweet book.
ROCKET-BYE -
This is another fun book. This is a bed time story that teaches about the stars, and the planets. What a fun way to teach kids about the universe. I even learned more about the stars. It was fun. I love it when authors bring things to life for kids that are facts they probably wouldn't be interested in any other way, at a young age.
pic and bio taken from Goodreads
Award winning author Carole P. Roman is a former teacher turned businesswoman. She has successfully run a family business with her husband that employs close to five hundred people. Her most favorite job is being grandmother to her many grandchildren. Roman has two wonderful sons and hit the jackpot in the daughter-in-law department. She currently lives on Long Island with her husband.
Her first book, Captain No Beard - An Imaginary Tale of a Pirate's Life has been named to Kirkus Reviews' Best of 2012 as well garnered the star of remarkable merit. It was named in the Pinnacle Award for Best in Children's Fiction 2012. Captain No Beard has developed in a series of 6 more books. She is the author of the best selling book, I Want To Do Yoga Too. Currently, she is working on her educational series that explores different cultures from a child's point of view. If You Were Me and Lived in...Mexico, received the Pinnacle Award for Best in Children's non-fiction 2012. If You Were Me and Lived in...Kenya received 5 Stars from the ForeWord Clarion Review. She just completed Russia with the help of her five year old grandson and loved every minute of it.