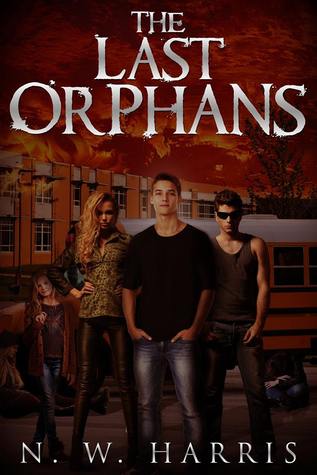 One horrifying day will change the life of sixteen-year-old Shane Tucker and every other kid in the world.
In a span of mere hours, the entire adult population is decimated, leaving their children behind to fend for themselves and deal with the horrific aftermath of the freak occurrence. As one of the newly made elders in his small town, Shane finds himself taking on the role of caretaker for a large group of juvenile survivors. One who just happens to be Kelly Douglas—an out-of-his-league classmate—who, on any other day, would have never given Shane a second glance.
Together, they begin their quest to find out why all of the adults were slaughtered. What they find is even more horrifying than anything they could have expected—the annihilation of the adults was only the beginning. Shane and his friends are not the unlucky survivors left to inherit this new, messed-up planet. No, they are its next victims. There is an unknown power out there, and it won't stop until every person in the world is dead.
A spine-tingling adventure that will have you gasping for breath all the way until the last page, The Last Orphans is the first book in an all-new apocalyptic series.
MY REVIEW / THOUGHTS:
This book grabbed me right from the very beginning. Shane's life didn't start out too hot in the beginning of this book, and just seem to get worse as the book went on.
Shane just lost his grad mother, and on the way home from the funeral, his father kicks him out of the car because he cannot be "man" enough and stop crying. Little did Shane's father know that would probably be the last time they ever saw each other.
Shane is traveling back to the only place he feels at home, his grand mothers. While doing so, he runs into his Aunt. Shane had no idea that would be the last adult he saw alive.
As a kid I always dreamed about what it would be like without any adults around, but that was just in a dream. Reading about it was down right creepy. I cannot imagine being 16 and all alone in the world. Trying to navigate life without any adults, or any skills. Just thrown into a "new" world.
When Shane and the children find out how this whole thing started and how to make it stop they decide they are going to go as a group to make it stop. Find a way. Any way. This journey is so fantastic.
There are are so many great twists and turns. The growth that comes to the characters during this book is wonderful as well. I found this exciting, and was often on the edge of my seat. I love it when I dive into a book and cannot put it down. I felt like I was watching a movie. Yes. A movie. That is how real this book was to me. It was wonderful. Such great writing. I cannot wait to move on to the second book!
I am definitely looking forward to more work from Harris!
Source: I was given this book by the author in return for an honest review. I was not compensated in any way for this review. These are my own PERSONAL thoughts on the book.
MY RATING:
pic and bio taken from Goodreads
Born at the end of the Vietnam war and raised on a horse farm near small town north Georgia, his imagination evolved under the swaying pines surrounding his family's log home. On summer days that were too hot, winter days that were too cold, and every night into the wee morning hours, he read books.
In addition to writing, he has been a submarine sailor, nurse, and business owner. His studies have included biology, anthropology, and medicine at UCSB and SUNY Buffalo. He is an active member of SCBWI and lives in sunny southern California with his beautiful wife and two perfect children. He writes like he reads, constantly.