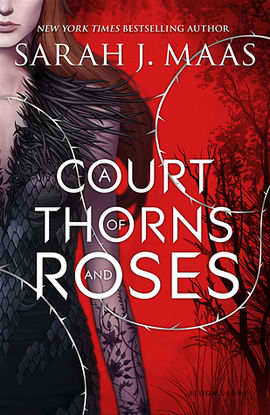 When nineteen-year-old huntress Feyre kills a wolf in the woods, a beast-like creature arrives to demand retribution for it. Dragged to a treacherous magical land she only knows about from legends, Feyre discovers that her captor is not an animal, but Tamlin—one of the lethal, immortal faeries who once ruled their world.
As she dwells on his estate, her feelings for Tamlin transform from icy hostility into a fiery passion that burns through every lie and warning she's been told about the beautiful, dangerous world of the Fae. But an ancient, wicked shadow over the faerie lands is growing, and Feyre must find a way to stop it . . . or doom Tamlin—and his world—forever.
"Tale as old as time, True as it can be, Barely even friends, Then somebody bends, Unexpectedly"
This is the second book I have read this week that is a Beauty and the Beast re-telling. I have been one happy reader. That song has been going through my mind for like three days now. I have had this book on my audible for way too long. Why did I wait so long? I don't even know! I LOVED this book.
When Feyre kills a wolf, she has to pay the price for it. She is taken from her father and sisters to live in the faerie land with Tamlin.
Feyre only knows the stories she has been told her whole life about the faerie lands. It's all nightmares and horrible creatures.
While living with Tamlin, Feyre learns there is fare more to this beautifully, broken world than the stories told. Dark creatures are about, but only at the hand of another High Fae who is determined to take over all of the faerie lands.
Feyre and Tamlin become friends. Feyre longs to get back to her family, but as time passes she doesn't ache for them like she use to. She finds herself drawn to Tamlin and he in return finds she is far more intriguing than just some human.
When Tamlin realizes that Feyre's life is in far more danger being with him, than it would be if she returned to the human world, he sends Feyre away. Of course, the story only gets better from this point on.
Fighting for the one you love is always a good story for me. Finding out that there is more to an individual than what meets the eye is always so fantastic as well.
This world is beautiful, complex, and full of interesting characters. Maas is such a fantastic author. Just amazing. I cannot wait to see what the next installment of this story brings!
Source: I bought this book for myself. I was not compensated in any way for this review. These are my own PERSONAL thoughts on the book.
Sarah J. Maas is the New York Times and USA Today bestselling author of the Throne of Glass series (Queen of Shadows, Book 4, will be out in September 2015), as well as the A Court of Thorns and Roses series (out 5/5/15).
Sarah lives in Bucks County, PA, and over the years, she has developed an unhealthy appreciation for Disney movies and bad pop music. She adores fairy tales and ballet, drinks too much tea, and watches an ungodly amount of TV. When she's not busy writing, she can be found exploring the historic and beautiful Pennsylvania countryside with her husband and canine companion.