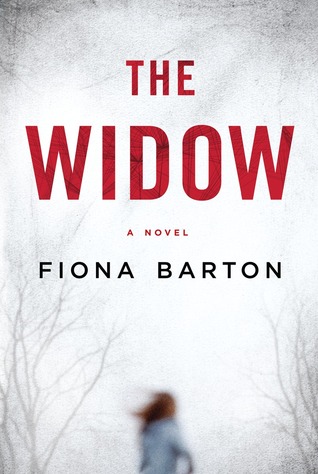 When the police started asking questions, Jean Taylor turned into a different woman. One who enabled her and her husband to carry on, when more bad things began to happen...

But that woman's husband died last week. And Jean doesn't have to be her anymore.

There's a lot Jean hasn't said over the years about the crime her husband was suspected of committing. She was too busy being the perfect wife, standing by her man while living with the accusing glares and the anonymous harassment.

Now there's no reason to stay quiet. There are people who want to hear her story. They want to know what it was like living with that man. She can tell them that there were secrets. There always are in a marriage.

The truth—that's all anyone wants. But the one lesson Jean has learned in the last few years is that she can make people believe anything…
What a great debut novel for Barton. I bought this audio book for myself after reading about it on a new release blog page of a fellow blogger.
I enjoyed this book from the very beginning to the very end. I enjoyed Barton's writing, and the story she brought to life in this book.
Jean thought her life with her husband was perfect. Then, little things started happening, and Jean was forced to face a life she did not want. Jean's husband was a the front of an investigation regarding a missing child. Then, as if Jean's life hadn't gotten out of control enough her husband dies. Right in front of Jean.
I thought I knew who the "bad" guy was the whole time, and then something would happen that made me rethink who it might be. Barton did a great job of keeping me on my toes and guessing "who done it". I was not expecting the ending at all.
Jean's life is full of reporters, and investigators now. Her life is being pulled into a million different directions, and she is forced to face things in her past, or her husbands past. Life isn't quite what she wanted.
Pick this one up...you won't regret it.
WHERE TO BUY:
pic and bio taken from http://fionabartonauthor.com/
My career has taken some surprising twists and turns over the years. I have been a journalist - senior writer at the Daily Mail, news editor at the Daily Telegraph, and chief reporter at The Mail on Sunday, where I won Reporter of the Year at the National Press Awards, gave up my job to volunteer in Sri Lanka and since 2008, have trained and worked with exiled and threatened journalists all over the world.
But through it all, a story was cooking in my head.
The worm of this book infected me long ago when, as a national newspaper
journalist covering notorious crimes and trials, I found myself wondering what the wives of those accused really knew – or allowed themselves to know.
It took the liberation of my career change to turn that fascination into a tale of a missing child, narrated by the wife of the man suspected of the crime, the detective leading the hunt, the journalist covering the case and the mother of the victim.
Much to my astonishment and delight, The Widow is available now in the UK, and around the world in the coming months.
However, the sudden silence of my characters feels like a reproach and I am currently working on a second book.
My husband and I are living the good life in south-west France, where I am writing in bed, early in the morning when the only distraction is our cockerel, Sparky, crowing.