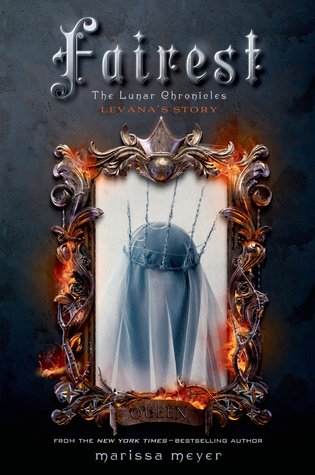 pic and description taken from Goodreads
In this stunning bridge book between
Cress
and
Winter
in the bestselling Lunar Chronicles, Queen Levana's story is finally told.
Mirror, mirror on the wall,
Who is the fairest of them all?
Fans of the Lunar Chronicles know Queen Levana as a ruler who uses her "glamour" to gain power. But long before she crossed paths with Cinder, Scarlet, and Cress, Levana lived a very different story – a story that has never been told . . . until now.
Marissa Meyer spins yet another unforgettable tale about love and war, deceit and death. This extraordinary book includes full-color art and an excerpt from
Winter
, the next book in the Lunar Chronicles series.
There really are no words for how much I love this series. I love re-tellings, and this is the hands down my favorite re-telling of Cinderella and more ;) to date. It's so fantastic.
I listened to this book on my audible account and the narrator was fantastic, and I felt like I was right there in the castle with Levana the whole time. Which could be seriously creepy at times...but you will have to find that out yourself ;).
I love learning how the "bad" girl in this case becomes the "bad" girl. Levana has been interesting to me from the beginning. I never did like her but now I know why!
I can't say too much because I don't want to give any thing away, but I loved Levana's story. She is one messed up chick. This book explains just HOW messed up she is.
It was fun to see how Winter comes into play in this book. I was excited before for Winter's story but now UGH! It needs to be out NOW!!!
This is such a great addition to the Lunar Chronicles. I love being able to understand each character in books that I love so much. I wish there could be a novella for each character I like or dislike ;). Which is weird for me because I usually don't "love" novellas. BUT, I love this one.
If you have liked the Lunar Chronicles so far this is a wonderful addition to it. Wonderful.
pic and bio taken from Goodreads
I live in Tacoma, Washington, with my fiancé and our two cats. In addition to my slight obsession with books and writing, I'm big on road-tripping, wine-tasting, and hunting for antiques. I'm represented by Jill Grinberg.
CINDER, my debut novel, is a futuristic re-envisioning of Cinderella in which Cinder is a cyborg mechanic. Release date: 3 Jan 2012.