I found this awesome meme because of
Feed Your Fiction Addiction
which led me to
I'm Loving Books
. I love this meme. It helps me read at least one book a month in my TBR pile that I have been dying to read and just haven't been able to. This month my random pick was #385 but since it was the second book of a series I chose to do #384 also. I also have another one picked out for the month, but we will see if I actually have time to get to it.
This is my "real" Random Read, since it was the second in the series I had to do the first book first. I absolutely cannot read out of order...okay I can...but I really do not like to. With this series I have a feeling I would have been terribly lost.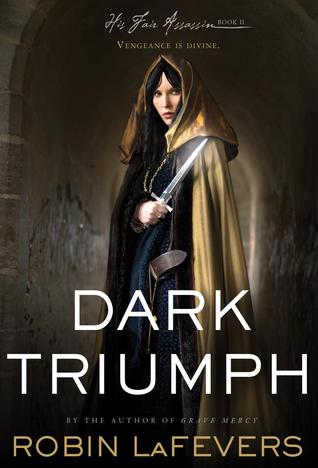 pic and description taken from Goodreads
When Sybella arrived at the doorstep of St Mortain half mad with grief and despair the convent were only too happy to offer her refuge - but at a price. The sisters of this convent serve Death, and with Sybella naturally skilled in both the arts of death and seduction, she could become one of their most dangerous weapons.
But her assassin's skills are little comfort when the convent returns her to the life that nearly drove her mad. Her father's rage and brutality are terrifying, and her brother's love is equally monstrous. But when Sybella discovers an unexpected ally she discovers that a daughter of Death may find something other than vengeance to live for...
I think I am in love with this series. I must say that to me book 2 was even better than book 1. I think maybe because all the world building and the characters were introduced in the first one, so the second could focus more on the story. This book is from a different point of view, and I loved it. Loved it!
Sybella is sent back to her home when she leaves St. Mortain's convent to be a spy in her own fathers home. Her life is absolutely horrible. My heart broke for her. her father is the D.E.V.I.L. I do not like him at all. Her brother Julian. Well, he is a piece of work. That relationship was messed up on so many levels.
I got to get to know the characters even better in this book, and understand the horror of what they have had to go through. Sybella's life sucks. I don't know any other way to put it. She is abused over and over by someone who is suppose to take care of her and love her. It's just sad and wrong.
Sybella is sent a message to find out if Beast is being kept prisoner there and if so, to help him escape. Sybella does so at the risk of her own life. When she finds Beast in his cell, he is beaten, bruised, and broken. They are able to escape and make their way to Ismae, Duval and the Duchess Anne. There are many obstacles along the way. This is where we get to see the true beauty of Beast.
Beast is one of my favorite characters. I had to giggle every time it's mentioned about how ugly he was. I could picture it in my head, but still loved him so much. Beast is truly a great man. There are some things we learn in this book that connect the characters and I just love it. I cannot wait to see what the next book brings.
I absolutely love the relationship between Beast and Sybella. Beast proves over and over that men can be kind, loving, and protective without hurting you. I do not usually talk about "sex" scenes in a book, but I am going to this time. When Beast and Sybella finally "connect" it was one of the most beautiful passages I have read in a long time. It made me feel happy. I felt so happy for Sybella. She finally got to feel what it was like to be loved, respected and cherished. Beast, finally to to feel what it was like to be loved in return for who he was and not what he looked like. He opened up his heart to another person and was greatly rewarded for it. He was loved not for his looks, not for his ability to protect, and not for his ability to fight. Just for him. It was magical. I know that might offend some, but honestly it was the most beautiful writing. I cried like a little girl. I know...silly.
I love that we find out about all of d'Albrets wives, and what really happened to them. I absolutely LOVE that we find out that one of d'Albrets wives was Beast's sister. There are so many heart breaking revelations in this book, yet it has such a great story of love and overcoming the evil in their lives.
I could probably go on and on, because I just loved this book so much. I am so excited to read Mortal Heart, and it's killing me that it won't be out until November. UGH. That is a long time to wait. I hope we get to see another point of view, as well as continue with Ismae and Sybella's stories. SUCH A GREAT SERIES!!!!
I would recommend picking this series up. It's just so fantastic :).
Robin LaFevers was raised on a steady diet of fairy tales, Bulfinch's mythology, and 19th century poetry. It is not surprising she grew up to be a hopeless romantic.
Though she has never trained as an assassin or joined a convent, she did attend Catholic school for three years, which instilled in her a deep fascination with sacred rituals and the concept of the Divine. She has been on a search for answers to life's mysteries ever since.
While many of those answers still elude her, she was lucky enough to find her one true love, and is living happily ever after with him in the foothills of southern California.
In addition to writing about teen assassin nuns in medieval Brittany, she writes books for middle grade readers, including the Theodosia books and the Nathaniel Fludd, Beastologist series. You can learn more about those books at
www.rllafevers.com
.