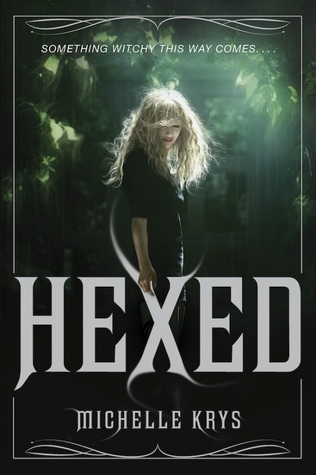 pic and description taken from Goodreads
If high school is all about social status, Indigo Blackwood has it made. Sure, her quirky mom owns an occult shop, and a nerd just won't stop trying to be her friend, but Indie is a popular cheerleader with a football-star boyfriend and a social circle powerful enough to ruin everyone at school. Who wouldn't want to be her?
Then a guy dies right before her eyes. And the dusty old family Bible her mom is freakishly possessive of is stolen. But it's when a frustratingly sexy stranger named Bishop enters Indie's world that she learns her destiny involves a lot more than pom-poms and parties. If she doesn't get the Bible back, every witch on the planet will die. And that's seriously bad news for Indie, because according to Bishop, she's a witch too.
Suddenly forced into a centuries-old war between witches and sorcerers, Indie's about to uncover the many dark truths about her life—and a future unlike any she ever imagined on top of the cheer pyramid.
Okay, I have seen this book around and took the chance to see if it was still available on Netgalley. I am so glad I did.
First lets start with what I liked about this book. I love books about magic. I don't know why they just make me happy.
I really like Indie. She is an interesting young woman with a spitfire personality ;-). Which is something I can relate to ;-).
Bishop is just dreamy in my head. Although the author did a great job of putting that image in my head. He cracks me up and I love it when characters are so sarcastic. It's another trait I can really relate to. Bishop gave me several laughable moments. He's a great warlock, and a crack up to boot.
Paige is one of my favorites as well. She is the true meaning of a good, loyal, and caring friend. Indie was not nice to her at the beginning but Paige remained kind no matter what.
Now there are a few LOVE to HATE characters in here as well who always make things more interesting. Bianca the "supposedly" best friend. She made me want to smack her more than a few times. She is the epitome of "mean" girl. Nobody likes mean girls. At least I don't. Not even in books. I also think that's why she's such a great adversary. I cannot stand her. You will have to read to find out why she is so retched ;-). Then there is Indies boyfriend Devon. He is a piece of work. He is a jock and a jerk. Every High School has "that" guy who thinks he is Gods gift to the world and all women should bow down to him. Dang, Krys writes a great "bad" boy:).
There is so much more I could say but I don't want to ruin it. There are parts in this story that broke my heart and made me ache for Indie. There are times when I want to smack her and say "WAKE UP". Then there are times when I was "ooohhhhh, and awwwwww". I LOVE it when an author brings so much emotion out of me.
Okay, now to what I didn't like so much. FIRST, let me say that I know I am probably in the minority when I tell you my "dislikes", but it's just my opinion. I do not like how foul every one's mouth gets. I don't like the teenage sex. I do not live in a bubble and know it goes on, but I still don't like it. Even if I realllllly want the characters to be together :). I have an almost 18 yr old who likes to read what I read and vise versa. I just think it makes me hyper aware of things.
Now having said my piece, I do have to admit this book was just so much fun to read! It's exciting and then there were a few "BAM" moments that I REALLLLY want to share but it would just ruin the surprise for you! AND Now I have to wait for the next one! This book definitely leaves you with the "WHAT" cliffhanger. I have a love/hate relationship with cliffhangers. Hehe. They make me read more but then I have to wait and the waiting is horrible.
This was just a fun read. It surprised me because at the beginning I was on the fence, but it sucked me in and now I cannot wait to see what other adventures / torture poor Indie has to go through.
Content: There is a little more language than I would like, and there are a few sex scenes (or almost) sex scenes that get a little descriptive, but not overly explicit. Did that statement even make any sense? There is teenage sex talked about as well. It says it's for 12 yrs and up but I would not recommend this for a young reader, but that is my opinion.
Source: I got this ARC e-book from Netgalley and Random House in exchange for an honest review. I was not compensated in any way for my review. These are my own PERSONAL thoughts on the book.
4 out of 5 hearts :)
Available June 10, 2014
pic and bio taken from Goodreads
Hi there! I'm the author of the YA novel HEXED, slated for publication with Delacorte Press/Random House Children's Books Spring 2014. I'm repped by Adriann Ranta of Wolf Literary Services. Visit me at michellekrys.com or follow @MichelleKrys on Twitter.