I am a little early with my Random Read this month, but hopefully I will be able to get another book done before the end of the month.
I found this awesome meme because of
Feed Your Fiction Addiction
which led me to
I'm Loving Books
. I love this meme. It helps me read at least one book a month in my TBR pile that I have been dying to read and just haven't been able to. This month my random pick was #385 but since it was the second book of a series I chose to do #384 also. I also have another one picked out for the month, but we will see if I actually have time to get to it.
#385 is: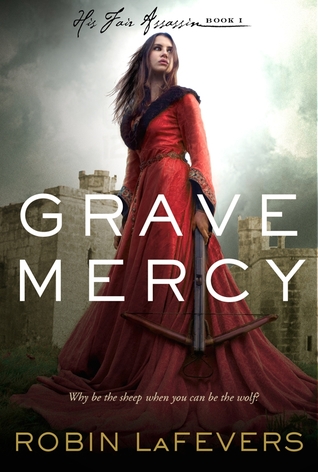 pic and description taken from Goodreads
Why be the sheep, when you can be the wolf?
Seventeen-year-old Ismae escapes from the brutality of an arranged marriage into the sanctuary of the convent of St. Mortain, where the sisters still serve the gods of old. Here she learns that the god of Death Himself has blessed her with dangerous gifts—and a violent destiny. If she chooses to stay at the convent, she will be trained as an assassin and serve as a handmaiden to Death. To claim her new life, she must destroy the lives of others.
Ismae's most important assignment takes her straight into the high court of Brittany—where she finds herself woefully under prepared—not only for the deadly games of intrigue and treason, but for the impossible choices she must make. For how can she deliver Death's vengeance upon a target who, against her will, has stolen her heart?
First off, I have been wanting to read this series for quite some time. I am so glad that my Random pick was the second one, because it forced me to read this one first. I cannot read out of order. I have a feeling I would be horribly lost if I did.
This book has so many characters. I loved that, but I also had to write every ones name and "station" down so I didn't have to flip back to the front all the time. It's harder to flip to the front on a Kindle book than a paper book.
Ismae is such a fantastic character. The beginning of this book shows us just how retched Ismae's life was before she was sent to the convent. This is no ordinary convent though. This is a training facility for assassins. I thought that was awesome....who would have thought to use the convent as a cover for training assassins. hehe. It was great.
Ismae is the daughter of Mortain - The God of Death. She is trained to take those out who death marks with out hesitation. She is good at it also :).
Ismae is sent with Gavrial Duval to protect the Duchess, and report back to the convent about Duvals actions. She soon finds out that Duval is one of the good guys.
Duval and Ismae develop a great relationship. There is scheming and cunning going on where the Dutchess is concerned. She has been promised to several suitors, and Duval is intent on keeping her safe from one suitor in particular. Count d'Albret. Seriously, this man is vile. V.I.L.E.
There is so much going on in this book. There is deceit, betrayal, cunning, and romance. Yup, romance. Duval and Ismae's story comes along in the book, and I love that it was not an insta love. I enjoyed that it took time for Ismae to trust, and to open her heart to someone. She has had a hard life, and she deserves to have something good happen to her.
I don't want to give anything away, but the bad guy, again surprised me. I am just going to assume that the "good" guy is the "bad" guy from now on...hehehe Obviously my observation skills while reading are not very good. OR, the author does a fantastic job of hiding the villain. Ya, lets go with that :). Actually, I really did not expect the bad guy to be who it was. I LOVE it when I cannot figure it out.
I think the author did a great job of putting me "in" this book. The word building was fantastic. I felt like I was following Ismae's journey right along with her. I could feel her emotions, and her struggle with what she is commanded to do, and what she felt in her heart was the right thing to do. I felt invested in the characters. The struggles they go through to protect their friends and family. I love the loyalty that is shown in this book.
I cannot wait to read the next book. This book was exciting, and fabulous.
Robin LaFevers was raised on a steady diet of fairy tales, Bulfinch's mythology, and 19th century poetry. It is not surprising she grew up to be a hopeless romantic.
Though she has never trained as an assassin or joined a convent, she did attend Catholic school for three years, which instilled in her a deep fascination with sacred rituals and the concept of the Divine. She has been on a search for answers to life's mysteries ever since.
While many of those answers still elude her, she was lucky enough to find her one true love, and is living happily ever after with him in the foothills of southern California.
In addition to writing about teen assassin nuns in medieval Brittany, she writes books for middle grade readers, including the Theodosia books and the Nathaniel Fludd, Beastologist series. You can learn more about those books at www.rllafevers.com.