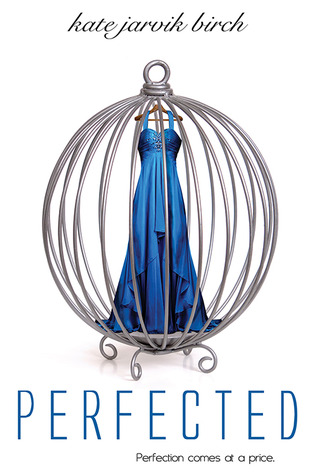 pic and description taken from Goodreads
Perfection comes at a price.
As soon as the government passed legislation allowing humans to be genetically engineered and sold as pets, the rich and powerful rushed to own beautiful girls like Ella. Trained from birth to be graceful, demure, and above all, perfect, these "family companions" enter their masters' homes prepared to live a life of idle luxury.
Ella is happy with her new role as playmate for a congressman's bubbly young daughter, but she doesn't expect Penn, the congressman's handsome and rebellious son. He's the only person who sees beyond the perfect exterior to the girl within. Falling for him goes against every rule she knows…and the freedom she finds with him is intoxicating.
But when Ella is kidnapped and thrust into the dark underworld lurking beneath her pampered life, she's faced with an unthinkable choice. Because the only thing more dangerous than staying with Penn's family is leaving…and if she's unsuccessful, she'll face a fate far worse than death.
For fans of Keira Cass's Selection series and Lauren DeStefano's Chemical Garden series, Perfected is a chilling look at what it means to be human, and a stunning celebration of the power of love to set us free, wrapped in a glamorous—and dangerous—bow.
Sometimes there comes a book that makes me question what really goes though peoples minds...hehe I mean that in a good way. I would never be able to come up with the ideas that I often read about. This one is no exception. I do not think I would ever think about making people "pets". It just sounds like a disaster in the making.
Ella, is bread to be a pet. She is given to a Congressman and his family, for one of their daughters as a playmate. Although I think it is for the sick, disturbed Congressman really. The Congressman has been fighting to get legislation passed to make it legal to own a human as a pet. When it passes he feels he needs to "own" one to support the bill he was fighting for. I mean, how sick and wrong is that? It's slavery at a whole new level. Except these "pets" are bred to do whatever their human "owners" want. They are trained in music, and proper etiquette, because really only the wealthy can afford them.
Ella is paraded about the Congressman's wealthy friends, but the Congressman has neighbors close to him that are very against this legislation. There is a group that is "freeing" the pets and Ella find herself captured by one such person. She thinks she is freeing Ella, but Ella does not want to be freed, or so she thinks. She has come to love her place and the Congressman's family.
When Ella is found and returned to her home, Penn, the Congressman's son invades her heart. Their feelings for each other are "cute". Yes, I said cute because Ella is only 16, and to be anything other than "cute" is just too mature in my opinion. I think that Penn and Ella get way too involved for teenagers, but it makes for a good story.
Penn is determined to have Ella, but the Congressman has other plans for Ella. He wants her all for himself. (Which is just sick and wrong...in my opinion).
This story is so interesting. I cannot imagine having a human as a pet. I cannot imagine going to the "pound" (okay, that isn't what it's called...but it's basically the same thing) to pick out another human to use as my child's friend or playmate. The whole concept is so disturbing, but it is also what kept me reading.
I like Ella. She is so young, and so naive but even so, she is learning that there is far more to live than what the kennel has taught her. She is finding out that she can have feelings of her own, and a life of her own, even though it goes against all that the training she has had.
She is beautiful, talented, and proper. She is not suppose to have feelings other than how to please her masters.
It really is an interesting story. It's a bit disturbing at times, because I think the Congressman's attraction to her is just plain creepy.
The story was exciting, and interesting. It made me think about what actual "pets" think of their owners...hehe. I wonder if they have their own thoughts and feelings. I am sure they do, but I don't have animals and never will, so I don't know. But I cannot imagine having a "pet" that could talk to me, and eat dinner with me. Strange :).
I think it's an interesting concept, and a fascinating read.
Source: I was given a copy of this book from Entangled Publishing in return for an honest review. I was not compensated in any way for this review. These are my own PERSONAL thoughts on the book.
Where To Buy or Pre-Order:
available 1 July 2014
pic and bio taken from Goodreads
Kate has loved writing ever since she was a little girl. She wrote her first novel in fourth grade (the main character was suspiciously similar to herself). As an adult, her essays and short stories have been published in Isotope: A Journal of Literary Nature and Science Writing, Saint Ann's Review, Scissors and Spackle and in a forthcoming issue of Indiana Review. Her first play, (a man enters), co-written with Elaine Jarvik, was produced in 2011 by Salt Lake Acting Co.