BOOK REVIEW #5 FOR READ-A-THON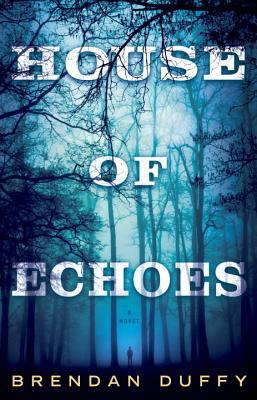 pic and description taken from Goodreads
Ben and Caroline Tierney and their two young boys are hoping to start over. Ben has hit a dead end with his new novel, Caroline has lost her banking job, and eight-year-old Charlie is being bullied at his Manhattan school.

When Ben inherits land in the village of Swannhaven, in a remote corner of upstate New York, the Tierneys believe it's just the break they need, and they leave behind all they know to restore a sprawling estate. But as Ben uncovers Swannhaven's chilling secrets and Charlie ventures deeper into the surrounding forest, strange things begin to happen. The Tierneys realize that their new home isn't the fresh start they needed . . . and that the village's haunting saga is far from over.

House of Echoes is a novel that shows how sometimes the ties that bind us are the only things that can keep us whole.
I have been reading some creepy books lately. I love them. I don't know why, I just do. I picked this one up at Barnes and Noble a while back because I loved the cover. I have a habit of doing that....Thankfully this book didn't disappoint.
Ben and Caroline move their family from Manhattan to a small village in upstate New York, called Swannhaven. Doesn't it just sound beautiful? It does to me.
Ben has inherited this big beautiful estate and he and his wife Caroline plan to restore it and make it a hotel. The town seems to be a sweet quaint town with lots of history.
Ben and Caroline have had some issues and felt like moving their family here would help them restore their fragile relationship. Caroline had been diagnosed bipolar and was just getting back on her feet. Ben was a writer who found this place a nice change of pace to write.
Ben's son Charlie is loving being in this new house where he can venture outside as much as he wants. That is until his father finds some animals mutilated and cannot determine what it was that is doing the killings. He tells his son to stay closer to home from now on.
Things only seem to get stranger from that point on. This book is so stinking creepy. A huge house, that makes noises at night. A forest, where animals keep getting ripped apart. A beloved family dog goes missing. A little boy stays hours on end in the forest talking to "something". Pictures drawn with mysterious people in the smoke. You name it....something probably happened in this book.
I am so glad I read this now, and not when I was staying in a cabin in the woods. This book was almost impossible to put down. I was so creeped out and totally drawn into this bizarre world.
The writing is amazing, the characters are fantastic and the people in the town are right out of a scary movie. It was FABULOUS.
When you get to the end, it's like "WHAT"!!!! In a good way. Kind of creepy way..hehe Just an all around great book.
Source: I bought this book for myself. I was not compensated in any way for this review. These are my own PERSONAL thoughts on the book.
pic and bio taken from Amazon.com
Brendan Duffy is an editor. He lives in New York, where he is at work on his second novel.