#7 BOOK REVIEW FOR READ-A-THON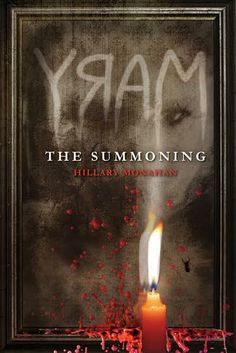 pic and description taken from Goodreads
There is a right way and a wrong way to summon her.
Jess had done the research. Success requires precision: a dark room, a mirror, a candle, salt, and four teenage girls. Each of them--Jess, Shauna, Kitty, and Anna--must link hands, follow the rules . . . and never let go.
A thrilling fear spins around the room the first time Jess calls her name: "Bloody Mary. Bloody Mary. BLOODY MARY." A ripple of terror follows when a shadowy silhouette emerges through the fog, a specter trapped behind the mirror.
Once is not enough, though--at least not for Jess. Mary is called again. And again. But when their summoning circle is broken, Bloody Mary slips through the glass with a taste for revenge on her lips. As the girls struggle to escape Mary's wrath, loyalties are questioned, friendships are torn apart, and lives are forever altered.
A haunting trail of clues leads Shauna on a desperate search to uncover the legacy of Mary Worth. What she finds will change everything, but will it be enough to stop Mary--and Jess--before it's too late?
HOLY CRAP..........I mean, HOLY CRAP.....this is so freaking scary. Yes. Scary. Climbing out of the book, gnawing at your dreams, and knocking on your brain scary. Well, for me anyway. I should not have started reading this book at night. SHOULD NOT! Too late now. hehe.
I LOVE scary books, and scary movies. They just make me happy. I don't know why, but they do. The get my adrenaline pumping, and are so much fun to read. Who needs drugs when you have books and movies? Sheesh.
I don't know of any one who didn't at one time play "Bloody Mary" at a slumber party during their years growing up. If you didn't you are better than me. :) I did and of course like most kids and just got freaked out at the pure thought of doing this. Maybe that should have been a clue not to do it in the first place...hehehe Kids will be kids...hehehehe
Well, this story brings Bloody Mary to a whole new level. I really liked this book. I liked all of the new aspects of this story. There is that annoying girl / friend who thinks that they know all and can actually summon Mary.
Jess convinces some of her friends to join her in her summoning. Their whole world changes after that fateful night. Mary does come. Mary does haunt. Mary does kill.
While all these things happen you cannot help but turn the pages, to find out just how they are going to happen. While reading, you keep telling yourself "stop reading, it's too creepy" but do you stop? No...of course not. It's to fantastic. Ya, that was me!
I don't really want to tell you much I want you to go out and read it for yourself. If you like scary books, this is just the book for you. Be prepared though. It is by far the creepiest book I have read to date. I loved every minute of it. I cannot wait to see where the other books take us :)
Source: I bought this book for myself. I was not compensated in any way for this review. These are my own PERSONAL thoughts on the book.
pic and bio taken from Goodreads
Hillary Monahan is Eva Darrows is also an international woman of mystery. Holed up in Massachusetts with three smelly basset hounds, she writes funny, creepy things for fun and profit.