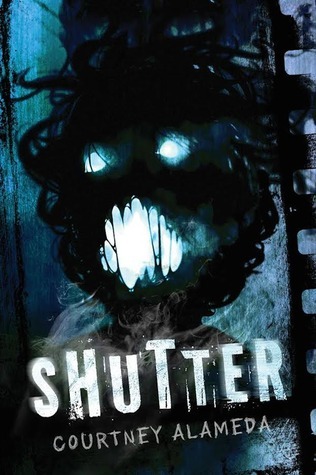 pic and description taken from Goodreads
Horror has a new name: introducing Courtney Alameda.
Micheline Helsing is a tetrachromat—a girl who sees the auras of the undead in a prismatic spectrum. As one of the last descendants of the Van Helsing lineage, she has trained since childhood to destroy monsters both corporeal and spiritual: the corporeal undead go down by the bullet, the spiritual undead by the lens. With an analog SLR camera as her best weapon, Micheline exorcises ghosts by capturing their spiritual energy on film. She's aided by her crew: Oliver, a techno-whiz and the boy who developed her camera's technology; Jude, who can predict death; and Ryder, the boy Micheline has known and loved forever.
When a routine ghost hunt goes awry, Micheline and the boys are infected with a curse known as a soulchain
.
As the ghostly chains spread through their bodies, Micheline learns that if she doesn't exorcise her entity in seven days or less, she and her friends will die. Now pursued as a renegade agent by her monster-hunting father, Leonard Helsing, she must track and destroy an entity more powerful than anything she's faced before . . . or die trying.
Lock, stock, and lens, she's in for one hell of a week.
I haven't read a ghost story in a very long time. I cannot remember if a fellow blogger reviewed this or if I just picked it up at Barnes and Noble because of the awesome, creeptastic cover.
I have been on a search for a "super scary" book. I mean really " super scary", I just haven't found it yet. This one comes pretty darn close though. It was definitely creepy, and I did find myself shutting the book once in a while because I was a little freaked out. So on the scary spectrum this one was scary, just not "super" scary ;).
I am still in love with vampires. I know most of the world is sick of hearing about them, but I don't think I ever will be. I think the thing that drew me in besides the awesome cover was the name Helsing. I knew it had to be along the lines of Van Helsing...well it's the same family ;).
Micheline and her crew decide to go on a call about an entity causing an uproar and death in a local hospital. Micheline can see ghosts better than anyone on her team. She decides she and her crew should go in and contain the entity. She can capture ghosts with the light from her camera. She steals their energy and stores it in the film. I thought this was an interesting take on capturing ghosts. As, I read more I totally got how it would work. Except with this particular ghost.
While trying to capture it Micheline and her team get "infected" by the ghost with a soulchain. It grows in their bodies and can kill them. They have between 4 and 7 days to find the entity and get rid of the soulchain before it kills them all.
This book was exciting. I was on the edge of my seat most of the time, and like I mentioned above, there were a few times I had to shut the book and read a "happy" book for a while. Usually because I was reading at night in the dark with just my reading light. Ya, it was creepy. I don't know why ghosts are so scary to me, but they are. Maybe because of the "who knows" factor. Or "what if" it could really happen???!
Micheline's father is the owner and operator of the Helsing Corp. He is not the kindest person on the planet. After loosing his wife he emotionally left the family. Micheline know's she is defying her fathers orders when she sneaks out to find the entity. She knows she can capture it and now her life hangs in the balance.
There are some sweet twists and turns in this book, and I really enjoyed it. I wish I could be one of those readers that could predict what was going to happen, but I am not. Maybe my mind just automatically goes the opposite way...hehe. It's very easy to distract me from what is going to happen. I guess that's why the twists and turns were so great. I didn't see them coming.
I was so excited to finally get a book that scared me a little. I know, sounds weird. I love reading sappy love stories, but sometimes I just need some more excitement in my life ;). Even if it's in the lines of a book. That makes it even sweeter. I wouldn't want that in "real" life...heheh
If you like ghost stories, this is a great one. It's exciting, fast moving, and very well written :).
Source: I bought this book for myself. I was not compensated in any way for this review. These are my own PERSONAL thoughts on the book.
WHERE TO BUY:
pic and bio taken from Goodreads
Courtney Alameda's spent her entire career trying to con and cajole people into reading great books. A veteran of the big-box bookstore trenches, Courtney now works as a librarian for the prettiest library you've ever seen, where she spends her time ordering large stacks of YA books, doing readers' advisory, and dressing up as various mythical creatures for a variety of library events.
Courtney has an affinity for brightly colored lipstick, urban exploration, cosplay, video games, and Twitter. If she's listening to music, it's usually Florence + the Machine, Marina and the Diamonds, Rodrigo y Gabriela, or Jason Graves. Her addiction to Dr. Pepper is legendary.
Courtney holds a B.A. in English Literature with an emphasis in Creative Writing from Brigham Young University. She is represented by the amazing and talented John M. Cusick of Greenhouse Literary. A Northern California native, she now resides in Utah with a legion of books and a tiny, five pound cat who possesses a giant personality.