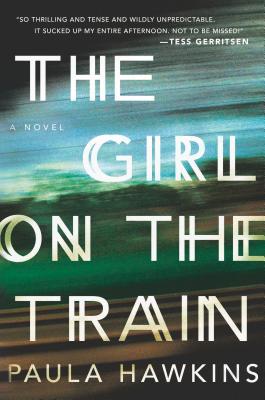 pic and description taken from Goodreads
Rachel takes the same commuter train every morning. Every day she rattles down the track, flashes past a stretch of cozy suburban homes, and stops at the signal that allows her to daily watch the same couple breakfasting on their deck. She's even started to feel like she knows them. "Jess and Jason," she calls them. Their life—as she sees it—is perfect. Not unlike the life she recently lost.
And then she sees something shocking. It's only a minute until the train moves on, but it's enough. Now everything's changed. Unable to keep it to herself, Rachel offers what she knows to the police, and becomes inextricably entwined in what happens next, as well as in the lives of everyone involved. Has she done more harm than good?
A compulsively readable, emotionally immersive, Hitchcockian thriller that draws comparisons to
Gone Girl
,
The Silent Wife
, or
Before I Go to Sleep
, this is an electrifying debut embraced by readers across markets and categories.
MY REVIEW / THOUGHTS:
Well, well, well....talk about a mind trip. This one is a definite mind trip. I am still thinking...WHAT!
Rachel is one messed up chick. I mean messed up. Then there is Megan and Anna. I think in their own way they are all pretty much messed up! They have some serious issues to work through.
Rachel, sees something from the train on one of her commutes that leads to an exciting, and twisted turn of events. A girl goes missing. Rachel cannot let her ex go, and Anna wants to get rid of her husbands ex.
Rachel cannot seem to move past loosing her husband. She becomes an
alcoholic
, and instead of letting her room mate know she lost her job, she rides the commuter train every day at the same time. She stalks her ex-husband and new wife relentlessly. She cannot seem to pull herself together. When she goes to the police with what she saw on the train, she is considered an unreliable witness because of her drinking.
Megan, we find out is not the sweet wife she seems to be. Rachel has nick named her and her husband Scott "Jess and Jason". She watches them each morning on her commute to the city. She imagines what might be going on behind closed doors. Of course there is far more to Megan's story, than just drinking tea and visiting with her husband on the back porch.
Anna, is Tom's new wife, and Tom, is Rachel's ex-husband that she cannot seem to move past. There is always some kind of drama that Tom is saving Rachel from, and Anna just wants her gone.
The story gets very exciting when we come to realize that all three of these women have something in common that they don't even know.
I was totally surprised by this ending. I don't know why I am always surprised but I am. I do have to say that there are so many "bad" guys that this could have ended three different ways, and all would have probably been just as good.
When Rachel's memories start coming back to her, and things start coming together the book gets to a point where I could not put it down. It was so fantastic. This was exciting, twisted, and a little creepy. Makes me wonder who I am living next door to :). Everyone seems to live such "normal" lives in this book. Until their worlds begin to collide with each other.
If you want a great, mess with your mind, exciting book to read, this one is right up there. It was so interesting to read. I love that it came from three different POV's. It made it that much more exciting to me. I loved seeing how it all came together.
MY RATING:
pic and bio taken from Goodreads
Paula Hawkins worked as a journalist for fifteen years before turning her hand to fiction.
Born and brought up in Zimbabwe, Paula moved to London in 1989 and has lived there ever since. The Girl on the Train is her first thriller.