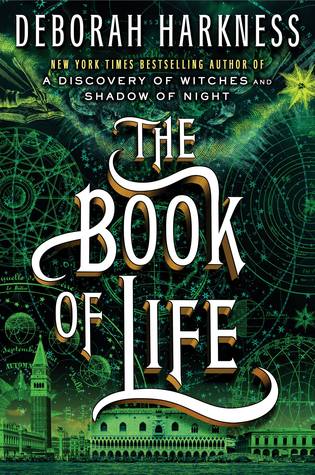 pic and description taken from Goodreads:
After traveling through time in
Shadow of Night
, the second book in Deborah Harkness's enchanting series, historian and witch Diana Bishop and vampire scientist Matthew Clairmont return to the present to face new crises and old enemies. At Matthew's ancestral home at Sept-Tours, they reunite with the cast of characters from
A Discovery of Witches
--with one significant exception. But the real threat to their future has yet to be revealed, and when it is, the search for Ashmole 782 and its missing pages takes on even more urgency. In the trilogy's final volume, Harkness deepens her themes of power and passion, family and caring, past deeds and their present consequences. In ancestral homes and university laboratories, using ancient knowledge and modern science, from the hills of the Auvergne to the palaces of Venice and beyond, the couple at last learn what the witches discovered so many centuries ago.
*** may be spoilers because this is book 3***
What a fantastic ending to a fantastic series! It has taken me a long time to finish this series. I have had it on my Ipod and only listen to it when I am traveling or going to be in the car for a long period of time. Well, since I got to travel to Idaho to take care of my daughter so I have been listening to this book non stop. It has been great.
I love the world that Diana and Matthew live in. I love the families that they have. I love how fiercely loyal Matthew is to Diana, and I love both of their families. I think I love all the characters in these books whether they be good or bad. The good ones were done so very well, and the bad ones were done so well that you couldn't help but like them also. Okay, love to hate is a better way to put it.
I love how the story unfolds in this book. I love how the rest of the secrets are revealed and I love that Diana is facing the congregation. She may not like it, but I love how it is done. I love all the research done in the book. I love every thing there is about this book.
The ending was the most beautiful ending. While Matthew has to find himself again after the torture he has been put through, I love how Diana and his children are the only thing that seem to keep him grounded while his blood rage is getting under control again. I love that when he is recovering the first thing he wants to touch is Diana.
This story is just so fantastic. From the very beginning when Diana and Mathew meet to the end, where all the secrets and families come together. The idea behind this book is just amazing. The world is beautiful. The writing is beautiful.
I love stories about magic. I love stories about vampires. This story is about love, family, vampires, witches, demons and more. It's so all encompassing. I was completely enthralled in the books the whole time I was reading them. I am so glad it ended well. Not just well, but beautiful. It was an "aaahhhh" kind of ending. I love those. This series will go down as one of my all time favorites.
Source: I bought this book for myself. I was not compensated in any way for this review. These are my own personal thoughts on the book.
pic and bio taken from Goodreads