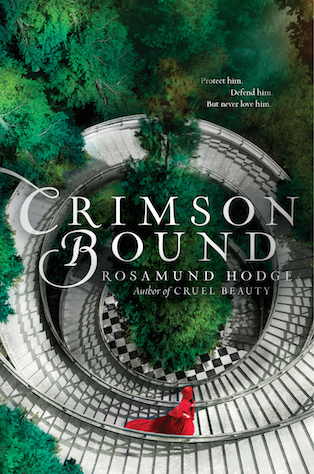 pic and description taken from Goodreads
When Rachelle was fifteen she was good—apprenticed to her aunt and in training to protect her village from dark magic. But she was also reckless— straying from the forest path in search of a way to free her world from the threat of eternal darkness. After an illicit meeting goes dreadfully wrong, Rachelle is forced to make a terrible choice that binds her to the very evil she had hoped to defeat.
Three years later, Rachelle has given her life to serving the realm, fighting deadly creatures in an effort to atone. When the king orders her to guard his son Armand—the man she hates most—Rachelle forces Armand to help her find the legendary sword that might save their world. As the two become unexpected allies, they uncover far-reaching conspiracies, hidden magic, and a love that may be their undoing. In a palace built on unbelievable wealth and dangerous secrets, can Rachelle discover the truth and stop the fall of endless night?
Inspired by the classic fairy tale Little Red Riding Hood, Crimson Bound is an exhilarating tale of darkness, love, and redemption.
(This is a standalone novel, not part of the Cruel Beauty Universe.)
I love re-tellings if they are done well. This particular one was done very well. It is the most interesting take on Little Red Riding Hood I have read in a long time.
This is my first novel by Hodge. I have wanted to read Cruel Beauty, but have yet to pick it up. When this one came out and I read all the wonderful reviews I knew I had to get my hands on it. I am so glad I did. Now, I am even more excited to read Cruel Beauty. Hodge's writing is beautiful.
Rachelle is forced to make a choice between living and dying. When deciding to live she had to commit a horrible act that has bound her to dark magic for life. She is forced to guard the kings son Armand, who claims to be a saint. While doing so she finds out more about herself and Armand, and realizes she does not want to be bound to dark magic for ever. She and Armand search for a way to free her from the curse and while doing so find something more in each other.
There are so many great characters in this book. Not only the MC, but all the surrounding characters play such a vital part in this book. I love it when an author does that. There are always more characters in a book, but when an author finds a way to make each one seem important it just makes the book so much better for me. It makes it come more to life for me as well.
I was captivated from the moment I started the book. I love how Hodge put me right in the book with her beautiful writing. I couldn't help feel like I was sitting in the forest while reading. Although my forest might not have been as dark as this one was ;).
There are some wonderful villains in this book as well. They were awesome characters, and I loved to hate them. hehe. I know that sounds silly, but it's true. There is always that one character in a book or a movie that I cannot seem to stand, yet cannot get enough of them. Erec was just that character. Wonderfully, and deliciously mean and deceitful.
I am glad I picked this book up. I loved Hodge's writing and the way she transformed this book to life for me. If you like re-tellings you should pick this one up! It's so great.
Source: I bought this book for myself. I was not compensated in any way for this review. These are my own PERSONAL thoughts on the book.
pic and bio taken from Goodreads
I love mythology, Hello Kitty, and T. S. Eliot. I write YA fantasy that draws on two of those things. My debut novel is CRUEL BEAUTY, a YA fairytale fantasy where Greek mythology meets Beauty and the Beast. My next novel is CRIMSON BOUND (5/5/15), where Little Red Riding Hood meets... many strange things.
Goodreads policies: I do read messages. I seldom friend people. I never comment on reviews of my own work.