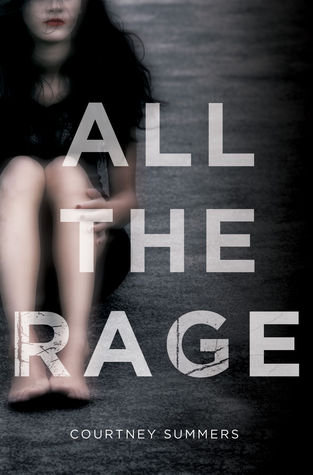 pic and description taken from Goodreads
The sheriff's son, Kellan Turner, is not the golden boy everyone thinks he is, and Romy Grey knows that for a fact. Because no one wants to believe a girl from the wrong side of town, the truth about him has cost her everything—friends, family, and her community. Branded a liar and bullied relentlessly by a group of kids she used to hang out with, Romy's only refuge is the diner where she works outside of town. No one knows her name or her past there; she can finally be anonymous. But when a girl with ties to both Romy and Kellan goes missing after a party, and news of him assaulting another girl in a town close by gets out, Romy must decide whether she wants to fight or carry the burden of knowing more girls could get hurt if she doesn't speak up. Nobody believed her the first time—and they certainly won't now — but the cost of her silence might be more than she can bear. 

With a shocking conclusion and writing that will absolutely knock you out,All the Rage examines the shame and silence inflicted upon young women after an act of sexual violence, forcing us to ask ourselves: In a culture that refuses to protect its young girls, how can they survive?
I have said this before, but I do not even know what to say. This story was so raw, real, and harsh. It deals with a subject that is tender, and needs more attention than it gets, so that girls are not ashamed or scared to come forward.
I have a dear friend that grew up in a small town, and the stories in this book are so real. I spent a LOT of time in that small town with her, and I am telling you right now, I witnessed first hand how a small town reacts to things that make the "town" look bad. It's a horrible world. It is the reason why I told my husband I would never live in a small town. Ever.
Romy's life is so very sad. She has been dealt a raw deal. The whole town thinks she is the "girl that cried rape" that it didn't actually happen. Reading Romy's story was so heart wrenching. Her whole family is looked down on because of what she "claimed" the Sheriff's son did to her.
I don't know why this story touched me the way it did, but it did. There was such real emotion in this book, and the author did a great job of grabbing my attention. I was drawn to Romy. Her life, her inability to have "real" relationships because of what had happened to her. The fact that people don't believe her is the most heart wrenching thing about this book. I know that there are women out there who are afraid to step forward because of this reason. It's heart breaking.
The book shows how raw, and real Romy's life is in the aftermath of a rape, and maybe another one. When another girl goes missing from the school only then does Romy seem to find her voice. The whole time I was reading I was screaming in my head. I know, silly, but I was. I wanted to smack the whole town upside the head. People willing to lie to protect the "elite" of town, and dig Romy's grave a little deeper. Not until the town finds out what really happens with the missing girl, do people actually take a minute to listen to Romy.
This book was so good. This subject is hard. I have two girls and this is one of my biggest fears. Rape is such a life altering event. Even with help it can be damaging to a persons soul. Girls need to stand up for themselves regardless of the threats against them.
Summers thanks for this powerful read. Your writing is amazing, and I was touched in more ways then one. I was moved by this book. The love Romy's mother had for her and her support. I loved this book.
Source: I bought this book after reading a fellow bloggers review. I was not compensated in any way for this review. These are my own PERSONAL thoughts on the book.
ABOUT THE AUTHOR:
pic and bio taken from Goodreads
COURTNEY SUMMERS was born in Belleville, Ontario in 1986 and currently resides in a small town not far from there. To date, she has authored five novels. Her first novel,
Cracked Up to Be
, was published when she was 22 and went on to win the 2009 CYBIL award in YA fiction. Since then, she's published three more books–2011 YALSA Top 10 Quick Pick and White Pine Honour book,
Some Girls Are
, 2012 YALSA Quick Pick,
Fall for Anything
, and 2013 YALSA Top 10 Quick Pick and White Pine Honour book
This is Not a Test
. Her next projects are an e-novella,
Please Remain Calm
(a sequel to
This is Not a Test
) and a new novel,
All the Rage
, both out in 2015.
Visit
her website
or follow her on
Twitter
or
tumblr
.