I only finished one of my books from August so I carried one over to September. YAY, I got one done early so hopefully I will have time to finish my second one!
Last month's pick that I carried over is :
was
#179 - If Only We by
Jessica Sankiewicz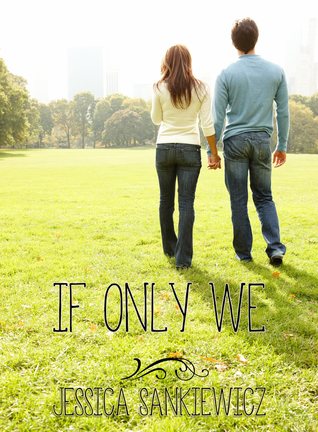 pic and description taken from Goodreads
They say all it takes is one wrong move and you lose the game. One false step and you're trapped. One slip-up in your choice of words and you ruin a friendship forever. That is what they say. They say I lost.

I do not believe them.
At the end of the summer after graduation, Adrienne wonders what happened to cause her life to be in ruins. She isn't getting along with her mom, her stepsister isn't talking to her, and, to top it off, the boy she's been in love with doesn't want anything to do with her. She believes the turning point was a choice she made at graduation. When she wakes up the next day, she has been transported back three months to that moment, the one where everything started to fall apart.
Adrienne realizes she has been given a second chance—and this time she doesn't want to mess anything up. Reliving the entire summer, though, turns out to be a lot harder than she thought. As the same days and weeks go by, she starts to see how simple decisions can make a huge impact on the world around her. Despite knowing some of what lies ahead, there are some things she didn't anticipate. She thought she knew what mistake led her to where she ended up the first time. She was wrong.
And by the time summer is over, she discovers what was really at stake.
This cute book sucked me in right from the beginning. I enjoyed it from the beginning to the end :).
Adrienne gets a second chance to live her summer before college over. The first time didn't go so well, and one day she wakes up in her bed at her mothers house living graduation night all over again.
She realizes that she has a chance to make different choices and hope that it changes everything that went wrong for the better. There are so many up and downs for poor Adrienne. She is a sweet girl, who is in love with one of her best friends, and wants to make sure she doesn't ruin her friendship with Chevy again. Her best friend and cousin is willing to help any way she can.
While Adrienne decides she doesn't want to take the path her mom has set before her, but that leads to a lie. Meanwhile Adrienne is trying to decide what she really wants to do with her life, while making her mother think she is actually going to her internship every day.
Although I personally, would never wish to relive any day of high school again ever. I enjoyed reading Adrienne's story. I loved watching her grow into the woman she becomes. I love Chevy. He is a swoon worthy boy to follow :). He is kind and scared. hehe. He and Adrienne are. It's fun to see how things unfold between them.
This was a sweet story of starting over, making hard choices, mending fences, uplifting relationships that are struggling, and being there for the people you love. I really enjoyed this book.
Source: I bought this book for myself. I was not compensated in any way for this review. These are my own PERSONAL thoughts about the book.
pic and bio taken from Goodreads
Jessica Sankiewicz
is the author of the New Adult novella series, This Night. You can often find her either reading or marathon watching TV on DVD, her favorites being Castle and Veronica Mars. She frequently mismatches her clothes and giggles uncontrollably. She knows almost every Billy Joel song by heart. She collects books and toys, and she has an intense love of cats and lemurs. Jessica decided when she turned 27 that she would remain 27 forever. Currently in the midst of her quarter-life-crisis, she is still takin' names and getting very close to reaching an epiphany.