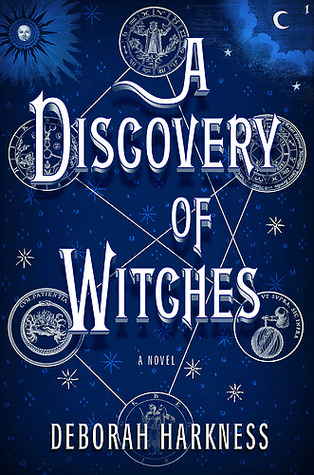 pic and description taken from Goodreads
A richly inventive novel about a centuries-old vampire, a spellbound witch, and the mysterious manuscript that draws them together.
Deep in the stacks of Oxford's Bodleian Library, young scholar Diana Bishop unwittingly calls up a bewitched alchemical manuscript in the course of her research. Descended from an old and distinguished line of witches, Diana wants nothing to do with sorcery; so after a furtive glance and a few notes, she banishes the book to the stacks. But her discovery sets a fantastical underworld stirring, and a horde of daemons, witches, and vampires soon descends upon the library. Diana has stumbled upon a coveted treasure lost for centuries-and she is the only creature who can break its spell.
Debut novelist Deborah Harkness has crafted a mesmerizing and addictive read, equal parts history and magic, romance and suspense. Diana is a bold heroine who meets her equal in vampire geneticist Matthew Clairmont, and gradually warms up to him as their alliance deepens into an intimacy that violates age-old taboos. This smart, sophisticated story harks back to the novels of Anne Rice, but it is as contemporary and sensual as the
Twilight
series-with an extra serving of historical realism.
I have been dying to read this series. I got the opportunity to listen to this book while traveling. I did love it. Diana is a witch and Matthew is a vampire. They are not suppose to be drawn to each other, but regardless of this fact they are.
Diana opens up a can of worms when she takes a book of the shelves for her research that is a book that only a witch can open. Diana didn't even know that the manuscript she opened once and couldn't retrieve again was Ash Mull 786. A book that describes the origins of Witches, Vampires, and Demons. Once she has opened it, she puts herself in danger without even knowing it. Matthew starts to watch Diana and they begin to interact. Of course that leads to a fabulous love story.
Matthew is determined to protect Diana when it's clear that other witches and demons are trying to get to her so she can give them the manuscript. Then Diana and Matthew do the unthinkable. They fall in love. It is against the "Council" to be with another "species".
Matthew is use to having his way, and having women do what he says when he says it. Diana on the other hand is not going to let him get a way with that. I LOVE it. Makes for some interesting dynamics. hehe
Diana has a lot to learn about being a witch. Matthew seems to think he knows how to help her. They embark on a journey to get their hands on the manuscript. On the run from the "Council" they are challenged over and over. This book is full of twists and turns, and is so much fun to read / listen to.
The characters in this book are fantastic. There are so many secondary characters that are there for you to love as well. Such a great book. I hope the series continues to be as fabulous :).
This is a book about witches, vampires, and demons with a forbidden love story to boot. It is such a fabulous combination :).
Source: I bought this audio book for myself. I was not compensated in any way for this review. These are my own PERSONAL thoughts on the book.
pic and bio taken from Goodreads
My life has been a series of left turns that nevertheless took me in the right direction (though it didn't always seem so at the time). I went to college to be a theater major and ended up studying the Renaissance. I went to grad school to become a college administrator and loved to teach so much I became a college professor instead. I thought I wanted to be a Tudor-Stuart historian, and found myself a historian of science. I started blogging because a friend needed help on a project in 2006 and am still blogging about wine today. I started writing a novel in the fall of 2008, and it became a New York Times Bestseller in February 2011: A DISCOVERY OF WITCHES. The second volume in the All Souls Trilogy, SHADOW OF NIGHT, came out in July 2012 and debuted at #1 on the NEW YORK TIMES Bestseller's List. What's next? The final volume of the trilogy, of course: THE BOOK OF LIFE, coming July 15 2014 to the US, UK, Canada, and Republic of Ireland.