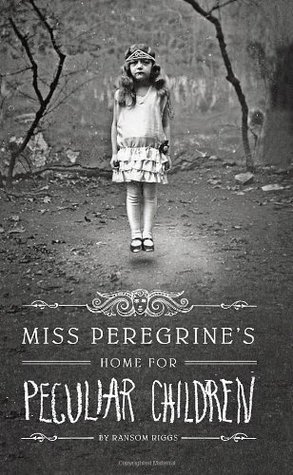 pic and description taken from Goodreads
A mysterious island. An abandoned orphanage. A strange collection of very curious photographs.
It all waits to be discovered in Miss Peregrine's Home for Peculiar Children, an unforgettable novel that mixes fiction and photography in a thrilling reading experience. As our story opens, a horrific family tragedy sets sixteen-year-old Jacob journeying to a remote island off the coast of Wales, where he discovers the crumbling ruins of Miss Peregrine's Home for Peculiar Children. As Jacob explores its abandoned bedrooms and hallways, it becomes clear that the children were more than just peculiar. They may have been dangerous. They may have been quarantined on a deserted island for good reason. And somehow—impossible though it seems—they may still be alive.
A spine-tingling fantasy illustrated with haunting vintage photography, Miss Peregrine's Home for Peculiar Children will delight adults, teens, and anyone who relishes an adventure in the shadows.
I have been so excited to read this book. I had been eyeing it for a while, and one day I decided I needed it for Mothers Day. I love it when I get what I want for Mothers Day ;). I had seen it on some blogs and the cover drew me in right away. I mean, it's a little creepy. I am in the mood for creepy.
This book has some fabulous characters in it. I cannot tell you how much I love the pictures that linger between the pages of this book. Some of them creep me out beyond reason. I absolutely hate clowns. HATE THEM...I am terrified of them.....TERRIFIED! Jesters are just the same. CREEPY characters. There is a picture of two kids with their faces painted like a Jesters, and I almost couldn't touch the page it was so creepy to me. Yes, I am being a little dramatic...but it's true. That is how much they scare me. But DANG, it was awesome.
I think the beginning of the book is creepy and fabulous. When Abraham Portman finds himself in trouble his grandson Jake finally thinks that the stories his grandfather told him growing up might actually be true. After Abraham Portmans murder, Jake is determined to find out what his grandfather was trying to tell him when he died. Well, lets just say the awesomeness begins :). I was reading the part about Portman dying while I was laying in bed very late one night, and when Jake says he saw something in the shadows, and explained it....I was creeped out, then I turned the page and the picture was there, and I jumped. I know...kind of silly, but it was creepy. (I seriously love creepy).
Jake travels to an island with his father and while there Jake is determined to find Miss Peregrine's Home for Peculiar Children. What he finds is a run down old mansion with the insides coming apart. It's only a little later that he finds himself in the past. He sees people he has seen in photographs and finally realizes what his grandfather had been telling him was true.
This book kept me interested from the beginning to the very end. It kind of got a little slow for me a bit in the middle, but it picked up again pretty quick. The end of this book is fantastic. It's exciting, and thrilling. I totally did NOT call the bad guy in this one, so when it came about I was very surprised.
I loved some of the characters that Jacob comes to be friends with when he is in the past. Emma, who can shoot fire, and Millard the invisible boy. I love Millard. I don't know why he just was a funny character. There a time in the book when they are eating dinner, and Miss Peregrine makes Millard leave the dinner table to put some clothes on..."you don't come to the table in the nude". It cracked me up. I probably would not have thought two shakes about it until Miss Peregrine points it out.
I am so excited for the second book. This one definitely left me wanting more. I hope the second one is as good as this one. I know I already said this, but the pictures that go along with this book are so fantastic. I think they make the story more "realistic" and so much more interesting. It made it easier to visualize the "peculiar" children in my head after seeing the photos.
If you like, creepy (but not too creepy) and exciting books, I recommend picking this little gem up. :)
Source: I bought this book for myself from Barnes and Noble. I am not affiliated with B&N in anyway, and was not compensated for this review. These are my own PERSONAL thoughts on the book.
Content: There is a little bit of language in this book, but I never felt like it was "too much".
4.5 out of 5
image and bio taken from Goodreads
I grew up in Florida, went to Kenyon College in Ohio, then film school at USC in LA, where I still live. I write books and screenplays, blog daily for mentalfloss.com, and make short films.
Miss Peregrine's Home for Peculiar Children is my first novel. I'm really excited about it -- it was challenging and rewarding and I hope people like it. If you read that and like the found photographs in it, you might be interested in a book comprised entirely of found photographs that I have coming out January 2012 from HarperCollins. It's called Talking Pictures. You can find sneak peeks by doing a search for "mental floss talking pictures" (I included a number of images in blogs there) and I made a kinda-sorta book trailer for it, which is on my youtube page:
youtube.com/ransriggs
.
Also, watch out for a Miss Peregrine book trailer, which I'm working on right now! I get to go to Belgium and film inside creepy abandoned chateaus, which I'm *really* looking forward to.