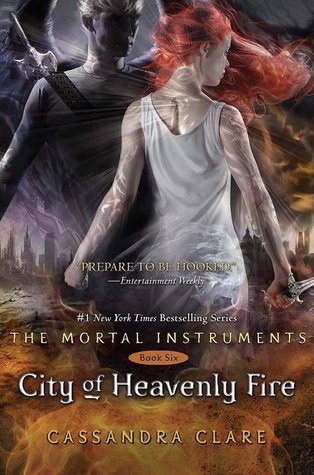 pic and description taken from Goodreads
ΕRCHOMAI, SEBASTIAN HAD SAID.
I am coming.
Darkness returns to the Shadowhunter world. As their society falls apart around them, Clary, Jace, Simon and their friends must band together to fight the greatest evil the Nephilim have ever faced: Clary's own brother. Nothing in the world can defeat him — must they journey to another world to find the chance?
***************** MAY BE SPOILERS *****************
OH MY GOSH........ I mean OH MY GOSH!!!!! 752 pages of pure AWESOMENESS! First, lets start with that cover. Can you say "AWESOME"? I was so afraid and excited to get this little gem in the mail. I have had a few series end so badly lately that it kind of left a sour taste in my mouth. To me (personally) if a series ends bad, it ruins the whole thing for me. Then I am just sad.
Lets just say that this book did NOT leave a sour taste! I cannot even tell you in words how much I loved this book. I don't even know where to start. Honestly. I just loved every thing about this book. Everything.
I love how everything came together. The Mortal Instruments, and The Infernal Devices. Seriously, I had a smile my face a the end of this book from ear to ear. I LOVE, LOVE, LOVE it when books / series end in a pretty little bow. Some people may not like that, but I LOVE it. I don't know if I mentioned it earlier but I LOVE it ;). I read books for pretty little bows. Even a scary book can end up all nice and neat.
This book was exciting and sad, and awesome. I mean, just awesome. Magnus is just as funny and ornery in this book as he has been in all of them. Jace was funny just like he always has been. I love it. I love that this book has it all. Love, friendship, family, excitement, sadness, joy...everything. It's amazing. I cannot thank Clare enough for this series. Thank you for ending it well. Thank you for making me fall in love with so many characters.
This is probably a spoiler - When everyone is in the demon world, some things happen there that made me super sad. Each person saw what they thought their heart desired. You would think that would be awesome, but when they have to find a way to return to Idris life changes in the blink of an eye. My heart ached so much for Simon and Isabelle and Clary. It was a heartbreaking moment. It was absolutely fabulous. I know that probably sounds like an oxymoron but it was. The way Clare brought emotions out of me was just top notch.
I do not want to ruin too much for people, but if you have not read both of these series...The Mortal Instruments, and The Infernal Devices...you are missing out. These two will go down as one of my favorite series of all time. Along with Harry Potter. I have loved a lot of books, but these have been such fantastic books from beginning to end.
Clare's writing is amazing. I loved every page. Even when something "bad" was happening, her writing is beautiful.
Okay, I could go on and on, and I want to! There are so many wonderful things that happen in this book, that even as I type I am still smiling. There are so many connections made in this book, and that just made it even more fun to read.
This book has a lot of pages, and I can honestly say I am so glad it does. The book was paced well, and the story never got boring. It took all of those pages to end a beautiful story!
If you have not read this series, you need to stop what you are doing and go buy it right now :). Okay, that may be a bit hasty...but seriously, that is how much I loved it.
Thanks Cassandra Clare....It was simply beautiful!
Source: I bought this book for myself from Amazon. I am not affiliated with Amazon in any way. These are my own PERSONAL thoughts on the book.
5 out of 5 FANTASTIC Hearts :)
pic and bio taken from Goodreads
Hello Goodreadsers. Here's my official bio:
"Cassandra Clare was born overseas and spent her early years traveling around the world with her family and several trunks of fantasy books. Cassandra worked for several years as an entertainment journalist for the Hollywood Reporter before turning her attention to fiction. She is the author of City of Bones, the first book in the Mortal Instruments trilogy and a New York Times bestseller. Cassandra lives with her fiance and their two cats in Massachusetts."
You can find me online at
www.cassandraclare.com