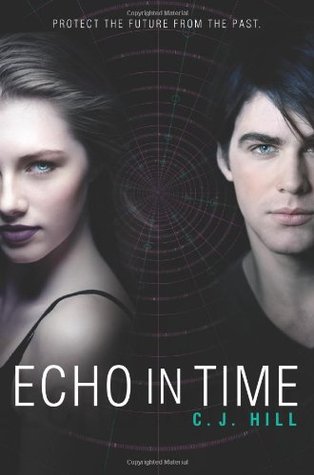 pic and description taken from Goodreads
Description:
After being pulled 400 years into the future, twins Taylor and Sheridan have found some refuge from the government of Traventon, which used the dangerous Time Strainer to yank the girls from the past. Yet the threat of the dangerous technology still looms. Taylor and an ally, Joseph, are selected to go on a mission to destroy the time machine and weapon. But their actions before they do may have major consequences for the future and the past.
Action-packed and romantic, this futuristic sequel to Erasing Time is perfect for fans of dystopian and sci-fi novels such as The Maze Runner by James Dashner, Across the Universe by Beth Revis, and Matched by Ally Condie.
*****may be spoilers if you haven't read the books yet*****
I picked up the first book in this series the other day for a "Random Read" and when I finished I couldn't let it stop there...so I quickly picked this one up. I think I liked this even better than the first book :). It was full of excitement.
I don't know how authors like being compared to other books, but I cannot tell you how many times "the capital" from "Hunger Games" came into my head while reading. The outfits in this book are HILARIOUS. Something I picture the people in the capital wearing :). The picture Hill paints in my head is absolutely wonderful. It makes me giggle to think that the future will have us dressing like clowns, all while thinking it's the latest fashion. hehehe! It was fantastic.
I knew by the name of the book that Echo would be back. What I didn't expect is the Allana coming back as well. Can I just say, that some people should just stay dead. I didn't like her from the minute she came into the picture. I laughed out loud, when Taylor stunned her just for fun. Okay, maybe not for fun, but because she was so stinking annoying. Every time Allana would argue about something I was wishing that Taylor would say "two seconds are up...zap". Oh, it was awesome.
Ren and Lee are new characters in this book and they cracked me up the whole time. Their banter with each other was awesome. They were such great characters. Echo made me mad a the beginning bringing his girlfriend back to the future, but then he grew on me. He was so funny.
I knew the minute that Echo came into play the whole "time stream" would change. Of course it had to. Right? Sheridan got the short end of that decision. I loved how strong Sheridan was in this book. People expected her to be so weak because she wasn't the "smart" one, but boy did she show them. She was awesome. I was a little conflicted because when she was being questioned and tortured, I was sometimes laughing. She would say the funniest things just to let Rielly know he hadn't gotten to her. It was awesome.
Xavier is a new character in this book, and I have to say that I loved him. When he was introduced I honestly thought he was going to ruin a lot of things, but he did the opposite. He made the story so much better. He isn't a huge character but I loved him just the same. He just added a little something to the book.
I loved the way this book kept me engaged. It was full of danger, laughter, and excitement. I couldn't put it down. It's a good thing I don't sleep very much any more, because It was 2:00 a.m. when I finally finished. Even, then I didn't want it to be over. It was just such a great book.
I think the thing I like the most about Erasing Time, and Echo in Time, is that they are clean. It just goes to show that a GREAT book can be clean, and fabulous at the same time :)!
Source: I bought this book for myself and my daughter. I was not compensated in any way for this review. These are my own PERSONAL thoughts on the book.
C.J. Hill (aka Janette Rallinson):
CJ Hill is a pen name for a YA author who is best known for writing romantic comedies. (Slayers will be her 18th published book.) Her writing has shifted away from the romantic comedy genre, so her editor thought a pen name would be a good idea. (New books will include: dangerous dragons, time travel to dystopian worlds, and flesh-eating beetles.) Since the publisher refused to let her have the pseudonym : The Artist Formerly Referred to as Princess, she chose a name to honor her mother. CJ Hill was her mother's pen name, or at least it would have been if her mother had published. Her mother wrote a few children's books and a middle grade novel but was taken by cancer before she had fully learned the craft.
Most writers' first novels aren't publishable. CJ Junior's first novel wasn't, but somehow was published anyway. Now, even though it is out of print, it remains forever available on Amazon, where it taunts her with its badness. This was another good reason to use a pen name.
CJ Hill has five children, three of whom like her on any given day depending on who is in trouble. She has lived in Arizona for the last half of her life, but is still in desert denial and hopes that one day her garden will grow silver bells and cockle shells or maybe just tomatoes.