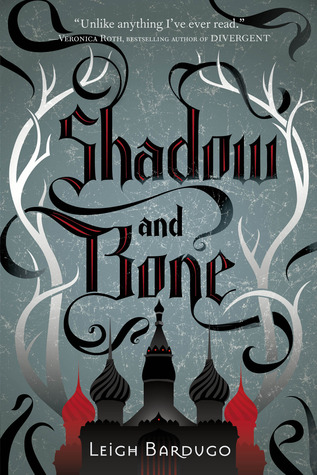 Surrounded by enemies, the once-great nation of Ravka has been torn in two by the Shadow Fold, a swath of near impenetrable darkness crawling with monsters who feast on human flesh. Now its fate may rest on the shoulders of one lonely refugee.
Alina Starkov has never been good at anything. But when her regiment is attacked on the Fold and her best friend is brutally injured, Alina reveals a dormant power that saves his life—a power that could be the key to setting her war-ravaged country free. Wrenched from everything she knows, Alina is whisked away to the royal court to be trained as a member of the Grisha, the magical elite led by the mysterious Darkling.
Yet nothing in this lavish world is what it seems. With darkness looming and an entire kingdom depending on her untamed power, Alina will have to confront the secrets of the Grisha . . . and the secrets of her heart.
Shadow and Bone is the first installment in Leigh Bardugo's Grisha Trilogy.
MY REVIEW / THOUGHTS:
I just saw a fellow blogger say "why did I wait so long to start a series"....well I am saying that right now. I have had this series on my self since the last book came out. Dang, why didn't I start it right away???
This book grabbed me from the very beginning. Two orphan kids living together, becoming best friends, just to be taken away from each other to learn where their abilities would best suit their nation. Mal and Alina. They are about to find out just how hard life can be.
Alina is taken away to be trained as a member of the Grisha. She has a power that no one has seen before. The Darkling believes that she is the one who is going to help save their nation.
Alina finds out she has power within her she never knew she had. When she finally embraces it, she realizes what a beautiful thing it could be. Alina is convinced by the Darkling that she is the one he has been searching for to save their nation and to take them through the dreaded Fold.
Alina is trained in combat and taught how to call upon her power when needed, and finally feels alive. The Darkling is looking for an amplifier for her powers. There are trackers sent out to find this mysterious stag so they can cut off his antlers, and make Alina's amplifier the greatest there is.
When trackers are hired to find this stag, they come to the Darkling to go over their plans. Mal. Alina's lost friend is the tracker. They see each other and the world seems to come full circle for the two of them...Until Alina realizes the Darkling may be using her for a much more sinister reason.
This story was so exciting to me from the beginning to the end. Alina's life is fascinating and scary all at the same time. Mal, is a great character who I cannot help but love. He is so happy to have found Alina and their friendship starts off right where it left off.
I loved the intensity of this book. It was hard to put down. I am still wondering why I took so long to start it. I am anxious to continue the series to see where the rest of the stories takes me. The ending leaves me definitely wanting more.
MY RATING:
pic and bio taken from Goodreads
Leigh Bardugo is the
New York Times
and
USA Today
bestselling author of the Grisha Trilogy (
Shadow and Bone
,
Siege and Storm
, and
Ruin and Rising
).
She was born in Jerusalem, grew up in Los Angeles, and graduated from Yale University, and has worked in advertising, journalism, and most recently, makeup and special effects. These days, she's lives and writes in Hollywood where she can occasionally be heard singing with her band. Her new book,
Six of Crows
, arrives fall 2015.
She would be delighted if you followed her on
Twitter
, elated if you visited her
web site
, and downright giddy if you liked
Shadow & Bone
on
Facebook
.