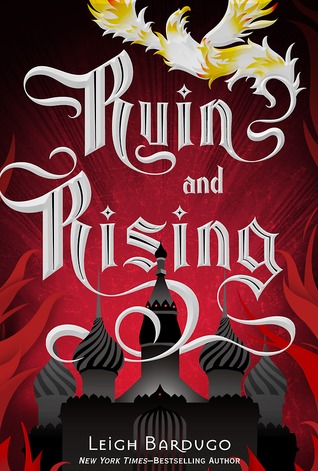 pic and description taken from Goodreads
The capital has fallen.

The Darkling rules Ravka from his shadow throne.

Now the nation's fate rests with a broken Sun Summoner, a disgraced tracker, and the shattered remnants of a once-great magical army.

Deep in an ancient network of tunnels and caverns, a weakened Alina must submit to the dubious protection of the Apparat and the zealots who worship her as a Saint. Yet her plans lie elsewhere, with the hunt for the elusive firebird and the hope that an outlaw prince still survives.

Alina will have to forge new alliances and put aside old rivalries as she and Mal race to find the last of Morozova's amplifiers. But as she begins to unravel the Darkling's secrets, she reveals a past that will forever alter her understanding of the bond they share and the power she wields. The firebird is the one thing that stands between Ravka and destruction—and claiming it could cost Alina the very future she's fighting for.
*** may be spoilers because this is book 3 of the series ***
I have been holding off finishing this book for a while now. This might sound silly but when I am reading a series, it is hard for me to finish. I am the type of person that if the series doesn't end well, it makes me dislike the whole series. It ruins it for me. So, I have loved this series so far and knew this was the end, and I was nervous. I started reading and was like "WHAT"..... I already didn't like what was happening so I took my time picking it up again. Thankfully this book did NOT disappoint! I am soooo glad!
This series got better and better with each book. I love that. I love, love, love the world that Bardugo built. I love that she has a map at the beginning of the each book so that you can see where they are going. I was lost in this world for three wonderful books.
The characters in this book are so fantastic. From the MC to the side characters. Each one had a place in the book, and each one was brought to life for me. I cannot tell you how much I love that. When I can connect to the MC it's awesome, but when the author connects me to ALL their characters the reading experience is heightened and it brings it more to life for me.
The struggle that Alina went though to take down the Darkling was fantastic. I loved that the two characters could connect step into each others minds. This book really brought to light just how "DARK" the Darkling was. He was just a sad, power hungry man. He was a fantastically, tortured character that Bardugo brought to life. There has to be someone in a book you love to hate!
This is the part that had me thinking I might not like the ending....Nikolai. I loved his character. He was so funny, and wanted to do the right thing.....and he loved Alina. No...No...No... She had to be with one man! Mal. Although I loved Nikolai in this book, and loved how he wanted to protect Alina, he was not the man for her...in my opinion :). I did love their mutual respect for each other, and the banter they had between them, and I loved him as a character. I just didn't love him as Alina's love interest. Which brings me to Mal.
Mal. Yum. Okay, so I picture a dirty man who likes to get down and dirty to find what he is looking for...but Yum. I loved him from the minute he was introduced in the book. He is such a great character. He is kind, loyal, funny, and just plain yummy. He was so tortured throughout this book with his love for Alina. Ugh, why do authors have to make the journey between two people so dang miserable sometimes...hehe. Kidding. It was wonderful. I hated that they were not together and always felt like "they couldn't" be together, but I held out hope that the would come to their senses, suck it up and realize they have to be together. Thank you Bardugo. I don't think I could have handled it if they did not end up together.
I was terribly worried at the end, but it all worked out for the best. I could go on and on, because I am sad that this is done. I loved this series. It was so much fun to read. The battles were awesome. Their powers were fantastic. The writing was A MAY ZING!
Source: I bought this book for myself. I was not compensated in any way for this review. These are my own PERSONAL thoughts on the book.
pic and bio taken from Goodreads
Leigh Bardugo is the
New York Times
and
USA Today
bestselling author of the Grisha Trilogy (
Shadow and Bone
,
Siege and Storm
, and
Ruin and Rising
).
She was born in Jerusalem, grew up in Los Angeles, and graduated from Yale University, and has worked in advertising, journalism, and most recently, makeup and special effects. These days, she's lives and writes in Hollywood where she can occasionally be heard singing with her band. Her new book,
Six of Crows
, arrives fall 2015.
She would be delighted if you followed her on
Twitter
, elated if you visited her
web site
, and downright giddy if you liked
Shadow & Bone
on
Facebook
.