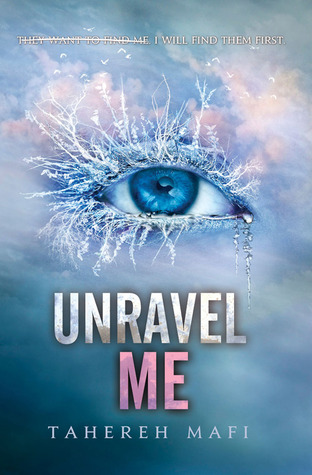 pic and description taken from Goodreads
tick
tick
tick
tick
tick
it's almost
time for war.
Juliette has escaped to Omega Point. It is a place for people like her—people with gifts—and it is also the headquarters of the rebel resistance.
She's finally free from The Reestablishment, free from their plan to use her as a weapon, and free to love Adam. But Juliette will never be free from her lethal touch.
Or from Warner, who wants Juliette more than she ever thought possible.
In this exhilarating sequel to
Shatter Me
, Juliette has to make life-changing decisions between what she wants and what she thinks is right. Decisions that might involve choosing between her heart—and Adam's life.
*** may be spoilers, I will try hard not to, but just a heads up! ***
I cannot even tell you how much I am loving this series. Each book gets better and better. Including the Novellas, and I am not a novella fan.
This book was so exciting. Everyone is learning more about themselves, and how to harness their energy. It's awesome.
Warner might be human. Might. I still have not decided for sure, but he showed some heart in this book. He almost made me like him, and then right after, he does something stupid to make me wonder again. He is one messed up dude. I know it is because of how he was raised, but dang. Messed up. His father Anderson, is a piece of work. Serious piece of work.
Then BAM......Plot twist. Brothers. Really. UGH! Sorry if you are reading and didn't know this. I told you I might spoil something. I cannot believe Warner and Adam are brothers. Seriously. Both raised by that crazy, horrible man Anderson.
I don't know if I want Warner to ever know. Maybe he will make different choices. Maybe not. I don't want to know. I don't want to see Warner be any more inhumane than he already is. I don't want Adam to fall into some kind of sick feeling of loyalty towards a brother he never knew he had, who is not a nice person.
Juliette. This poor girl cannot catch a break. My heart aches for her...Sometimes. In this book her wishy washy, love triangle is annoying. I hate love triangles. Hate them. Having said that, the book is still so super fantastic, I can't help it. Her abilities are growing every day, and she is becoming more confident. Thank heavens. I want her to be a force to be reckoned with!
The action was awesome. I cannot wait to read the next novella, and the next book. I hope it continues to get better :).
Such a great series! I am in love with Mafi's writing :)!
pic and bio taken from Goodreads