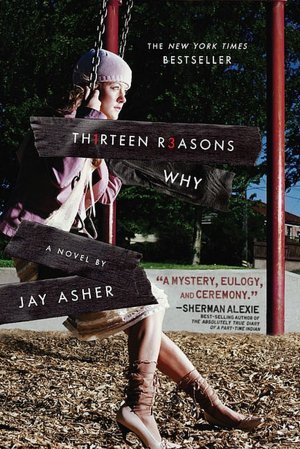 pic and description taken from Goodreads
Clay Jensen returns home from school to find a mysterious box with his name on it lying on his porch. Inside he discovers thirteen cassette tapes recorded by Hannah Baker, his classmate and crush who committed suicide two weeks earlier.
On tape, Hannah explains that there are thirteen reasons why she decided to end her life. Clay is one of them. If he listens, he'll find out how he made the list.
Through Hannah and Clay's dual narratives, debut author Jay Asher weaves an intricate and heartrending story of confusion and desperation that will deeply affect teen readers.
Oh my gosh. Seriously I haven't been able to read for a while, and then the first two books I pick are so fantastic. This book is also a mind trip. Serious mind trip.
How did the author come up with this idea? Okay, it says in the back of the book, but still. This idea is so trippy.
Could you imagine getting tapes from someone who had killed them self? I have to admit I will never, ever, ever understand suicide. I think it's a horribly selfish way to leave this earth. BUT, this isn't about my personal feelings about that. I also cannot imagine how hard a person's life would be with the responsibility of knowing their role in a person's suicide.
I don't quite know how to review this book. Although the idea of the book is a little creepy, I couldn't stop reading. Just like the characters in the book couldn't stop listening. I could not stop reading. Could not.
Hannah was such a sad girl. There are so many things that could have happened that could have changed her mind, but no one was willing to stand up.
I think every kid should read this book. I want my girls to read this book. I don't want them to ever make another person feel as though they are not important, and I don't want them to ever feel like they are not important. It was heart breaking to hear Hannah talk about her life. It was heartbreaking to hear Clay try to stop what had already happened.
There is never any reason any person should feel as though they do not belong. I know that isn't the way the world works, but I hope that I have taught my kids that. You never know how far a smile could go. Maybe one day, that smile would be the one thing that could change a persons mind about taking a life altering decision.
I have to admit the book was really good. It made me think about how I respond to people in my own personal life. I hope that I have let them know every day that I care for them. Read this book and decide for yourself, but this book touched me. I will never take another person for granted as long as I live.
I am looking forward to reading more from Asher.
pic and bio taken from Goodreads
Jay Asher
was born in Arcadia, California on September 30, 1975. He grew up in a family that encouraged all of his interests, from playing the guitar to his writing. He attended Cuesta College right after graduating from high school. It was here where he wrote his first two children's books for a class called Children's Literature Appreciation. At this point in his life, he had decided he wanted to become an elementary school teacher. He then transferred to California Polytechnic State University in San Luis Obispo where he left his senior year in order to pursue his career as a serious writer. Throughout his life he worked in various establishments, including as a salesman in a shoe store and in libraries and bookstores. Many of his work experiences had an impact on some aspect of his writing.
He has published only one book to date,
Thirteen Reasons Why
, which was published in October 2007. He is currently working on his second Young Adult novel, and has written several picture books and screenplays.
Thirteen Reasons Why
has won several awards and has received five stars from Teen Book Review. It also has received high reviews from fellow authors such as Ellen Hopkins, Chris Crutcher, and Gordon Kormon.