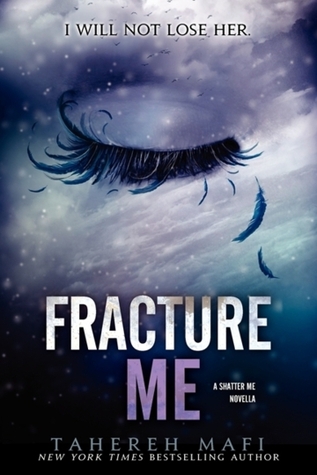 pic and description taken from Goodreads
In this electrifying sixty-page companion novella to the New York Timesbestselling Shatter Me series, discover the fate of the Omega Point rebels as they go up against The Reestablishment. Set during and soon after the final moments of Unravel Me, Fracture Me is told from Adam's perspective.

As Omega Point prepares to launch an all-out assault on The Reestablishment soldiers stationed in Sector 45, Adam's focus couldn't be further from the upcoming battle. He's reeling from his breakup with Juliette, scared for his best friend's life, and as concerned as ever for his brother Jame's safety. And just as Adam begins to wonder if this life is really for him, the alarms sound. It's time for war.

On the battlefield, it seems like the odds are in their favor—but taking down Warner, Adam's newly discovered half brother, won't be that easy. The Reestablishment can't tolerate a rebellion, and they'll do anything to crush the resistance . . . including killing everyone Adam has ever cared about.

Fracture Me sets the stage for Ignite Me, the explosive finale in Tahereh Mafi's epic dystopian series. It's a novella not to be missed by fans who crave action-packed stories with tantalizing romance like Divergent by Veronica Roth, The Hunger Games by Suzanne Collins, and Legend by Marie Lu.
MY (mini) REVIEW / THOUGHTS:
I knew I loved Adam from the very beginning. This little novella proves to me why I love him so much. In the midst of all that is happening he is face with the reality that he may loose his brother.
I do not fault Adam for any of his feelings. He has been through the ringer. When he finally questions his loyalty to Juliette, I have to admit I am a little relieved. Juliette is kind of playing with his emotions, and I don't like it when girls do that. Like ever. In books or in life.
I do love that Juliette has realized how much she cares for Kenji. I love his snarky personality. He is also one of my favorites.
I am hoping. Like really hoping (I know it's not going to happen, but I am hoping) that Juliette ends up with Kenji. I like him far better than both Warner and Adam. Maybe because he is so snarky. I like snarky :).
This was an exciting novella. I have said this before novellas are not my favorite, but I really did enjoy reading both of them for this series. It's nice to get behind the other characters.
pic and bio taken from Goodreads
She was born in a small city somewhere in Connecticut and currently resides in Santa Monica, California, where she drinks too much caffeine and finds the weather to be just a little too perfect for her taste.
When unable to find a book, she can be found reading candy wrappers, coupons, and old receipts.