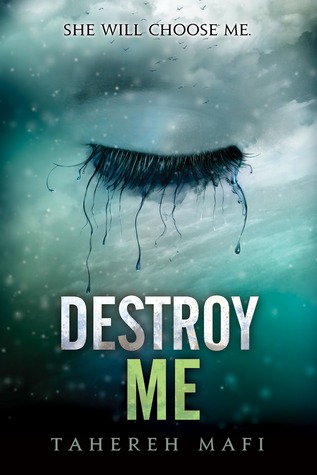 pic and description taken from Goodreads
Perfect for the fans of Shatter Me who are desperately awaiting the release of Unravel Me, this novella-length digital original will bridge the gap between these two novels from the perspective of the villain we all love to hate, Warner, the ruthless leader of Sector 45.

In Tahereh Mafi's Shatter Me, Juliette escaped from The Reestablishment by seducing Warner—and then putting a bullet in his shoulder. But as she'll learn in Destroy Me, Warner is not that easy to get rid of. . .

Back at the base and recovering from his near-fatal wound, Warner must do everything in his power to keep his soldiers in check and suppress any mention of a rebellion in the sector. Still as obsessed with Juliette as ever, his first priority is to find her, bring her back, and dispose of Adam and Kenji, the two traitors who helped her escape. But when Warner's father, The Supreme Commander of The Reestablishment, arrives to correct his son's mistakes, it's clear that he has much different plans for Juliette. Plans Warner simply cannot allow.

Set after Shatter Me and before its forthcoming sequel, Unravel Me,Destroy Me is a novella told from the perspective of Warner, the ruthless leader of Sector 45.
Ugh, what to think now? Warner. Is still don't think I like him, but now I don't know if he's ALL bad or not. We meet Warner's father the leader of the Reestablishment and dang, he is the devil.
I love reading from the bad guys point of view. I know, kind of twisted, but I love reading about how and why they became the way they are. There is always something behind their behaviors. Well, with Warner's father in the picture we learn a lot about why Warner is the way he is.
We also learn that Warner kind of has a heart. I wish I could say I know for sure, but I just can't yet. I loved reading Warner's side of the story though. I think Warner might have had good intentions regarding Juliette. Warner's father on the other hand....
I really enjoyed reading this side of the story. I love the insight it gave into Warner's mind. I think I have a better understanding of why he is the way he is. I cannot wait for the next book.....
That is all I am going to say because I probably already gave something away. Oops, if I did ;).
Source: I bought this series for my self. I have not been compensated in any way for my review. These are my own PERSONAL thoughts on the book.
pic and bio taken from Goodreads
She was born in a small city somewhere in Connecticut and currently resides in Santa Monica, California, where she drinks too much caffeine and finds the weather to be just a little too perfect for her taste.
When unable to find a book, she can be found reading candy wrappers, coupons, and old receipts.