for this awesome challenge. It was so much fun. I you don't follow her blog you should because she is awesome!!!!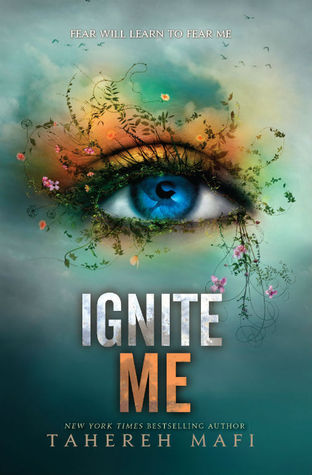 pic and description taken from Goodreads
The heart-stopping conclusion to the New York Times bestselling Shatter Me series, which Ransom Riggs, bestselling author of Miss Peregrine's Home for Peculiar Children, called "a thrilling, high-stakes saga of self-discovery and forbidden love."
With Omega Point destroyed, Juliette doesn't know if the rebels, her friends, or even Adam are alive. But that won't keep her from trying to take down The Reestablishment once and for all. Now she must rely on Warner, the handsome commander of Sector 45. The one person she never thought she could trust. The same person who saved her life. He promises to help Juliette master her powers and save their dying world . . . but that's not all he wants with her.
The Shatter Me series is perfect for fans who crave action-packed young adult novels with tantalizing romance like Divergent by Veronica Roth, The Hunger Games by Suzanne Collins, and Legend by Marie Lu. Tahereh Mafi has created a captivating and original story that combines the best of dystopian and paranormal, and was praised by Publishers Weekly as "a gripping read from an author who's not afraid to take risks." Now this final book brings the series to a shocking and satisfying end.
MY REVIEW / THOUGHTS:
*** probably spoilers if you haven't read this series yet! ***
I cannot even begin to say fabulous this conclusion was. I am always so scared when I read a series, that the end won't be what I "expected" it to be and will ruin the whole series for me. I am soooo happy that didn't happen in this book! It was just as fabulous as the rest of the series.
There was so much more discovery, action, and passion in this book.
Juliette is woman hear here roar. That is all I could think in this book. She finally found herself and became comfortable enough with who she was, that she was able to earn the respect she so desperately wanted, needed, and most definitely deserved.
Kenji, Oh, Kenji. I love him. I am saddened that she and Juliette didn't end up together, but I like how it ended so it's all good. He just was one of my favorite characters throughout the whole book. He had a foul mouth, but he was quick, and witty, and just plain funny. He was such a great character. Hands down my favorite. I know it's not suppose to be that way, but he was. He was the most entertaining to read :). He made me laugh through the whole book.
Adam....well lets just say he didn't end up being the man I thought he would be. I was very disappointed in him. Although he loved his brother and I loved their relationship, I hate how he treated Juliette. He had more PMS in this book than any woman could ever have. It was a bit annoying. I always say though that any emotion a character can make me feel is great. hehe
Warner....Well, I love him. I really didn't know what to think of him in the other books, but he really came to life in this book. He is such a beautifully, damaged man. Yet, he finds away to connect with Juliette and the others, and his true character comes out in this final battle.
The excitement throughout this book was awesome. It was so hard to put down, because there was always something happening.
The ending battle int his book was FAN FREAKING TASTIC! I was in the middle of reading it and my phone rang, and my door bell rang, and I ignored both because it was to intense to quit. So, if you were the one knocking or calling sorry. Don't get in the middle of me and my books :). hehe
Such a great series. I loved every minute of it. It was exciting, and had romance to boot. There is always time for love :). Especially when two volatile people collide and make something wonderful.
So good. I could go on and on and on, but I know I have already given some stuff away. LOVED. IT!
Source: I bought this series for my self. I was not compensated in any way for this review. These are my own PERSONAL thoughts on the book.
pic and bio taken from Goodreads
She was born in a small city somewhere in Connecticut and currently resides in Santa Monica, California, where she drinks too much caffeine and finds the weather to be just a little too perfect for her taste.
When unable to find a book, she can be found reading candy wrappers, coupons, and old receipts.