Welcome to my stop on the Ella's Will Blog Tour!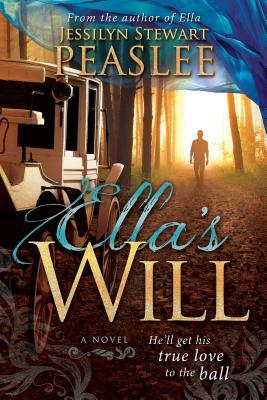 pic and description taken from Goodreads
Will Hawkins is just a mere stable boy. How can he ever think to woo Ella, his once-wealthy childhood friend who is stubbornly independent, especially when his competition is the prince? Without any magic or fairy godmothers, Will must show Ella that he is her true prince charming in this perspective twist of the Cinderella story.
I just finished Ella and knew I had a tour coming up for Ella's will. I am so glad I got to be part of this tour. This book was so good.
In this re-telling of Cinderella we get to see Will's view of the things that have happened. I LOVE LOVE LOVE when an author lets us see the "other" side of the story. It is one of my favorite things. It doesn't happen too often, but when it does I always grab them and devour them. I wish we could have all the characters view on the story. It would be amazing. Not realistic, but amazing.
Will, is an amazing man. He is the (bring him home to meet mom and dad) kind of boy. He and Ella have been friends since they were young. Will loved Ella's father as his own. He worked with Ella's father until his death. When Ella's father died the step mother fired everyone or just quit paying them so they left.
Will went to work at the Palace in the stables. Everyone seemed to like him, and he was working hard on his own home "shack" to make a place for him and his family. Ella had no idea those plans included her.
Will tried to keep quiet in the ways he helped Ella. He knew that if Ella's step mother knew Will was helping her she would get punished. So he did things early in the morning or late at night. Little things so as not to be noticed by anyone but Ella.
When it is announced that the Prince has returned from his travels, and plans to have a ball to find his future wife, Will begins to panic a little. He has been working up the nerve to tell Ella he loves her. But this new blip has caused him to reflect whether or not he would be good enough for Ella.
You think you know where the story goes now right? Not with this Cinderella story. The ending is so wonderful. You will have to read for yourself to see how it turns out!
Source: I was given this book as part of a blog tour. I have not been compensated in any way for this review. These are my own PERSONAL thoughts on the book.
Content: CLEAN and wonderful!
A Special Thanks to : Cedar Fort Publishing for allowing me to participate in this blog!
pic and description taken from amazon.com