DAY OF THE CHALLENGE/DATE
Day 12
- September 24, 2016
Books Reading: 1
Books Listening To: 1
Pages Read: 308
Chapters Listened To: 117 - on my itunes - Part 1 Track 7
Finished Books: 2
Here is my review for the 2nd Book I have finished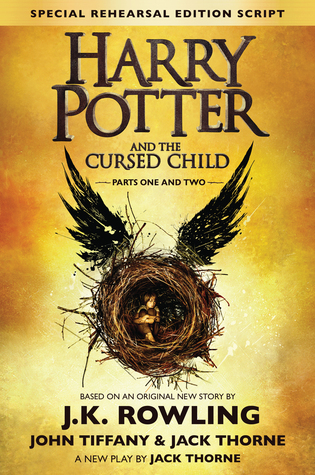 pic and description taken from Goodreads:
Based on an original new story by J.K. Rowling, Jack Thorne and John Tiffany, a new play by Jack Thorne,
Harry Potter and the Cursed Child
is the eighth story in the Harry Potter series and the first official Harry Potter story to be presented on stage. The play will receive its world premiere in London's West End on July 30, 2016.
It was always difficult being Harry Potter and it isn't much easier now that he is an overworked employee of the Ministry of Magic, a husband and father of three school-age children.
While Harry grapples with a past that refuses to stay where it belongs, his youngest son Albus must struggle with the weight of a family legacy he never wanted. As past and present fuse ominously, both father and son learn the uncomfortable truth: sometimes, darkness comes from unexpected places.
I don't even know where to start. My love for ALL things Harry Potter runs deep. This is in my opinion HANDS DOWN the GREATEST series ever written. The thought of being able to dive back into this world made me so, so happy. I have had the book for a while and have been dying to get to it, but other things got in the way. Now that I am done, I just want to open it up and read it again.
I cannot even count anymore how many times I have listened to The Harry Potter Series, or read it, or watched the movies. It is too many to count. Every time I get like a giddy little school girl again, because they make me that excited and happy.
Anyhow, lets get on to the review
.
This is a script of the play that is now playing in England where I wish I was right now watching it. We get to go on a ride with Harry's son Albus, and Malfoy's son Scorpius.
Albus is a lot like Harry, he likes to "fix" things which usually means he is getting into trouble. Scorpius, is nothing like his father. He is kind and he befriends Albus right off.
These two remind me so much of Harry and Ron. Albus and Harry do not get a long very well, and when he befriended Scorpius Harry forbade him to see him anymore. As a parent of a teenagers I know that is the WRONG thing to say...hehe
Needless to say, Albus and Scorpius set off on an adventure to change the world so that Albus can make his dad proud.
This is such a wonderful read. I cannot express that enough. I weeped like a new born baby while reading this book. I laughed, got mad, and a whole other plethora of emotions. Rowling's writing goes beyond brilliant. She makes a world come to life in ways I have never experienced with another book. She has made these characters personal to me, and I love that more than anything.
If you haven't picked this book up, you should. Especially if you are a Harry Potter fan. I know there are so many nay sayers out there about this book, but in my opinion they don't know what they are talking about..hehe
I hope there are more to come. I hope they make this into a movie or bring the play to America. I need more Harry Potter in my life. It just makes me happy.
Source: I bought this book for myself. I was not compensated in anyway for this review. These are my own PERSONAL thoughts on the book.
(
personally I don't think there is a rating high enough for this book
)
pic and bio taken from Goodreads
Although she writes under the pen name
J.K. Rowling
, pronounced like
rolling
, her name when her first
Harry Potter
book was published was simply
Joanne Rowling
. Anticipating that the target audience of young boys might not want to read a book written by a woman, her publishers demanded that she use two initials, rather than her full name. As she had no middle name, she chose
K
as the second initial of her pen name, from her paternal grandmother Kathleen Ada Bulgen Rowling. She calls herself
Jo
and has said, "No one ever called me 'Joanne' when I was young, unless they were angry." Following her marriage, she has sometimes used the name
Joanne Murray
when conducting personal business. During the Leveson Inquiry she gave evidence under the name of
Joanne Kathleen Rowling
. In a 2012 interview, Rowling noted that she no longer cared that people pronounced her name incorrectly.
Rowling was born to Peter James Rowling, a Rolls-Royce aircraft engineer, and Anne Rowling (née Volant), on 31 July 1965 in Yate, Gloucestershire, England, 10 miles (16 km) northeast of Bristol. Her mother Anne was half-French and half-Scottish. Her parents first met on a train departing from King's Cross Station bound for Arbroath in 1964. They married on 14 March 1965. Her mother's maternal grandfather, Dugald Campbell, was born in Lamlash on the Isle of Arran. Her mother's paternal grandfather, Louis Volant, was awarded the Croix de Guerre for exceptional bravery in defending the village of Courcelles-le-Comte during the First World War.
Rowling's sister Dianne was born at their home when Rowling was 23 months old. The family moved to the nearby village Winterbourne when Rowling was four. She attended St Michael's Primary School, a school founded by abolitionist William Wilberforce and education reformer Hannah More. Her headmaster at St Michael's, Alfred Dunn, has been suggested as the inspiration for the
Harry Potter
headmaster Albus Dumbledore.
As a child, Rowling often wrote fantasy stories, which she would usually then read to her sister. She recalls that: "I can still remember me telling her a story in which she fell down a rabbit hole and was fed strawberries by the rabbit family inside it. Certainly the first story I ever wrote down (when I was five or six) was about a rabbit called Rabbit. He got the measles and was visited by his friends, including a giant bee called Miss Bee." At the age of nine, Rowling moved to Church Cottage in the Gloucestershire village of Tutshill, close to Chepstow, Wales. When she was a young teenager, her great aunt, who Rowling said "taught classics and approved of a thirst for knowledge, even of a questionable kind," gave her a very old copy of Jessica Mitford's autobiography,
Hons and Rebels
. Mitford became Rowling's heroine, and Rowling subsequently read all of her books.
Rowling has said of her teenage years, in an interview with The New Yorker, "I wasn't particularly happy. I think it's a dreadful time of life." She had a difficult homelife; her mother was ill and she had a difficult relationship with her father (she is no longer on speaking terms with him). She attended secondary school at Wyedean School and College, where her mother had worked as a technician in the science department. Rowling said of her adolescence, "Hermione [a bookish, know-it-all
Harry Potter
character] is loosely based on me. She's a caricature of me when I was eleven, which I'm not particularly proud of." Steve Eddy, who taught Rowling English when she first arrived, remembers her as "not exceptional" but "one of a group of girls who were bright, and quite good at English." Sean Harris, her best friend in the Upper Sixth owned a turquoise Ford Anglia, which she says inspired the one in her books.
pic and bio taken from Goodreads
John Tiffany trained at Glasgow University gaining an MA in Theatre and Classics. He was Literary Director for the Traverse Theatre, Associate Director for Paines Plough and a founding Associate Director for the National Theatre of Scotland. He is currently an Associate Director for the Royal Court Theatre. During 2010-11 John was a Radcliffe Fellow at Harvard University.
Work for the Royal Court includes: THE TWITS, HOPE, LET THE RIGHT ONE IN and THE PASS.
Work for the National Theatre of Scotland includes: LET THE RIGHT ONE IN, MACBETH, ENQUIRER, PETER PAN, THE HOUSE OF BERNARDA ALBA, TRANSFORM CAITHNESS: HUNTER, BE NEAR ME, NOBODY WILL EVER FORGIVE US, THE BACCHAE, BLACK WATCH, ELIZABETH GORDON QUINN and HOME: GLASGOW. For BLACK WATCH, John won the Laurence Olivier Award for Best Director and a Critics' Circle Award.
On Broadway, John directed THE GLASS MENAGERIE (also A.R.T.), MACBETH, and ONCE, which won 8 Tony Awards in 2012, including Best Musical and Best Direction of a Musical.
Other work includes: THE AMBASSADOR (Brooklyn Academy of Music), JERUSALEM (West Yorkshire Playhouse), LAS CHICAS DEL TRES Y MEDIA FLOPPIES (Granero Theatre, Mexico City and Edinburgh Festival Fringe), IF DESTROYED TRUE, MERCURY FUR, HELMET and THE STRAITS (Paines Plough), GAGARIN WAY, ABANDONMENT, AMONG UNBROKEN HEARTS, PERFECT DAYS and PASSING PLACES (Traverse, Edinburgh).
John is also working on the stage play of HARRY POTTER AND THE CURSED CHILD with J.K. Rowling and Jack Thorne, which opened in the West End in June 2016.
pic and bio taken from Goodreads
Jack Thorne (born 6 December 1978) is an English screenwriter and playwright.
Born in Bristol, England, he has written for radio, theatre and film, most notably on the TV shows Skins, Cast-offs, This Is England '86, This Is England '88, This Is England '90, The Fades, The Last Panthers and the feature film The Scouting Book for Boys. He currently lives in London.