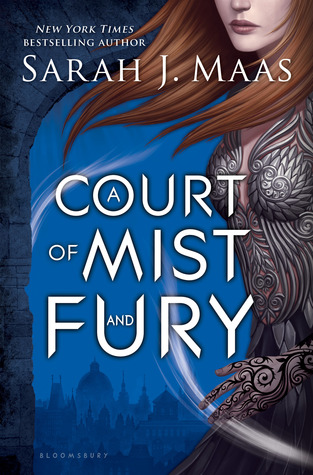 pic and description taken from Goodreads
DESCRIPTION:
Feyre survived Amarantha's clutches to return to the Spring Court—but at a steep cost. Though she now has the powers of the High Fae, her heart remains human, and it can't forget the terrible deeds she performed to save Tamlin's people.
Nor has Feyre forgotten her bargain with Rhysand, High Lord of the feared Night Court. As Feyre navigates its dark web of politics, passion, and dazzling power, a greater evil looms—and she might be key to stopping it. But only if she can harness her harrowing gifts, heal her fractured soul, and decide how she wishes to shape her future—and the future of a world cleaved in two.
With more than a million copies sold of her beloved Throne of Glass series, Sarah J. Maas's masterful storytelling brings this second book in her seductive and action-packed series to new heights.
*** may be spoilers since this is book two ***
Let me start by saying that I am glad I didn't read reviews for this series before I started. I do a lot of times but this time, I decided I wanted to go in blind. I love this author so I knew it would be good. Had I read the reviews I would have realized that there was a love triangle and I wouldn't have even pick the series up. BUT, having said that this "triangle" works. Don't ask my why, but it does. I don't believe it's a "real" triangle. Now, onto the book.
In the first book Maas does a great job at painting Rhysand as the bad guy. I really didn't like him. Although I knew there had to be more to him, because when he brought Feyre to his court he wasn't "forceful".
I love Feyre. She is such a great character. She's strong willed, and feisty, yet she has such a good heart. When she is "rescued" by Rhysand she comes to realize that he has more respect for her than she has given him credit for.
While living with with Rhysand, and spending more time with him, she comes to respect him, and trust him. He allows her into his life, and lets her see parts of him that no one else ever has. When Rhysand and family come to realize that war is close, they come up with a plan to keep his people safe.
Unfortunately someone close to Feyre, has been seeking her out, and when they find her, Feyre realizes they have been betrayed by someone who loves Feyre.
While Feyre has grown into her new powers they soon come to realize that Feyre will do anything she can to keep Rhysand and his people safe from anyone and everyone who tries to defy him.
This is such a great book. I love the banter between Rhysand and Feyre. It's fantastic. The world that Maas has created for this series is fan freaking tastic. I love it so much. Maas's writing is absolutely beautiful. I cannot give enough praise to this series. It has been fantastic...The ONLY downside to this book is the freaking cliff hanger. UGH!!! I cannot wait for the next book to come out.
I have not been compensated in any way for this review. These are my own PERSONAL thoughts on the book.
WHERE TO BUY:
pic and bio taken from Goodreads