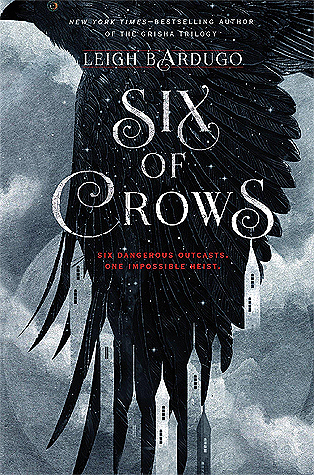 pic and description taken from Goodreads
Ketterdam: a bustling hub of international trade where anything can be had for the right price—and no one knows that better than criminal prodigy Kaz Brekker. Kaz is offered a chance at a deadly heist that could make him rich beyond his wildest dreams. But he can't pull it off alone...

A convict with a thirst for revenge
A sharpshooter who can't walk away from a wager
A runaway with a privileged past
A spy known as the Wraith
A Heartrender using her magic to survive the slums
A thief with a gift for unlikely escapes

Kaz's crew are the only ones who might stand between the world and destruction—if they don't kill each other first.
This was such a good book. I have been scoring on the good reads lately. I bought this audio book a long time ago, and I don't know why I waited so long. This was so so good.
There are a lot of characters in this book, and I loved all of them. Some I love, and some I loved to hate.
When Kaz and his crew are hired to free a scientist who is making a drug that increases the abilities of the Gresha(sp?) they couldn't refuse. Kaz's team didn't even know how bad it was for the Gresha, but they are soon going to find out.
Kaz has an idea in his head, and is hoping that it all turns out right. He hopes that everyone makes it off the island. Kaz is hoping that all his planning and tricks pay off.
This book is full of adventure, and excitement. I couldn't stop listening. Every time I turned off my car, I had to put my ear phones right in. It was non stop action for me. The crew that Kaz has put together is full of different back grounds. Different races, and very different personalities. Yet they all mesh. It makes for an exciting story.
I had to pay close attention because of all the characters! It made it an even more interesting story. The world is awesome, the story is awesome and Bardugo might be one of my favorite authors. Her writing is amazing. I have loved everything I have read of hers. I cannot wait to start the other book. I wish I would have read it soon :).
Source: I bought this book for myself. I was not compensated in any way for this review. These are my own PERSONAL thoughts on the book.
pic and bio taken from Goodreads
Leigh Bardugo is the
New York Times
and
USA Today
bestselling author of the Grisha Trilogy (
Shadow and Bone
,
Siege and Storm
, and
Ruin and Rising
).
She was born in Jerusalem, grew up in Los Angeles, and graduated from Yale University, and has worked in advertising, journalism, and most recently, makeup and special effects. These days, she's lives and writes in Hollywood where she can occasionally be heard singing with her band. Her new book,
Six of Crows
, arrives fall 2015.
She would be delighted if you followed her on
Twitter
, elated if you visited her
web site
, and downright giddy if you liked
Shadow & Bone
on
Facebook
.