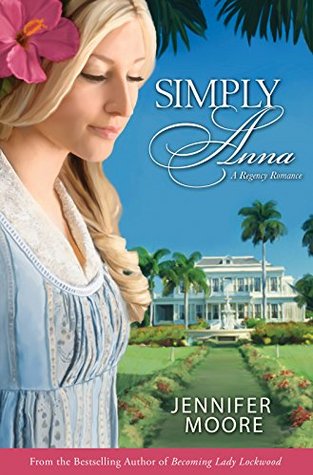 pic and description taken from Goodreads
DESCRIPTION:
Suffering from a cruel heartbreak, Lord Philip Hamilton has been driven to seek refuge from the painful memories haunting London, and his father's Jamaican sugar cane plantation provides just the escape he needs. Philip finds solace in his hard work and takes comfort in the fact that his distance from society ensures that his heart will be protected from future entanglements. Protected, that is, until the unexpected appearance of a mysterious woman with no memory of her past. The only clue to her identity is a necklace inscribed with a name: Anna. In a matter of weeks, this gentle, intelligent, and impossibly beautiful stranger turns Philip's world upside down. But as the bond between the pair grows, the threat of Philip losing his heart once more is only the beginning of the dangers that await. Island renegades and a ruthless band of pirates clash in a swashbuckling battle, and it soon becomes clear that these villains may be the key to unlocking Anna's past . . .
I have really been in such a historical romance kick. I just love them. They make me so happy. I have had this one in my car for a while, just listening to it while driving kids here and there. It was such a fun listen.
Anna, is girl who shows up on Lord Phillips plantation after being thrown off the ship she was on. Lord Phillip takes her in and tries to take care of her while Anna tries to remember who she is and where she came from.
Anna feels so out of place but find herself enjoying Lord Phillip and his house. Phillip finds he is enjoying Anna being around as well. He enjoys taking rides with Phillip and enjoys watching how things work in the sugar business.
Things start happening around Lord Phillips land. His bounty is on it's way to be sold and his company was attacked and many of Phillips men were killed. When one of Phillips men makes it back to the plantation and lets him know who is behind the attacks. You will have to read yourself to know who it is! ;)
Horrible people are threatening the lively hood of Lord Phillips plantation. During this time we get a chance to see what loyalty buys a man. Those loyal to Phillip teach him what love and friendship are really about.
Anna's memories come flooding back and she realizes she is not a lady, but just a servant.
Ugh, why did they have to be so proper? What is wrong with loving who you want. I could have never lived back then. I am sure I would have shamed my family over and over :).
The way this story plays out is so fun. This book is full of love, romance, friendship, mystery, hatred and loyalty. Things that don't usually go together, but make for a wonderful story.
Source: I borrowed this audio-book from my mother. I was not compensated in any way for this review. These are my own PERSONAL thoughts on the book.
MY RATING:
WHERE TO BUY:
ABOUT THE AUTHOR:
pic and bio taken from Goodreads
Jennifer Moore is a passionate reader and writer of all things romance due to the need to balance the rest of her world, which includes a perpetually traveling husband and four active sons, who create heaps of laundry that are anything but romantic. Jennifer has a BA in linguistics from the University of Utah and is a Guitar Hero champion. She lives in northern Utah with her family.