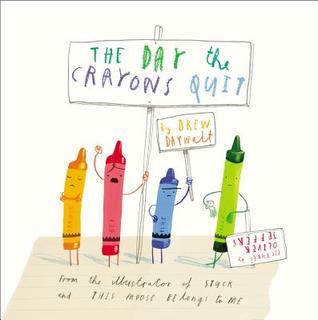 pic and description taken from Goodreads
Poor Duncan just wants to color. But when he opens his box of crayons, he finds only letters, all saying the same thing: We quit!

Beige is tired of playing second fiddle to Brown. Blue needs a break from coloring all that water, while Pink just wants to be used. Green has no complaints, but Orange and Yellow are no longer speaking to each other.

What is Duncan to do? Debut author Drew Daywalt and New York Timesbestseller Oliver Jeffers create a colorful solution in this playful, imaginative story that will have children laughing and playing with their crayons in a whole new way.
This was such a cute children's book. My sister bought it for her grandson and I saw sitting on the table and had to pick it up. Seriously it's so cute.
Duncan is a little boy who just wants to color...but his crayons have gone on strike. Every one of them wants something more from Duncan. It's so cute :).
Each color wants to have more attention. If you have kids this is a cute book to read with them. I cannot wait to have grand babies (which will probably never happen...kidding). I am going to start collecting them for when and if I ever have grand babies, and this is the the top of my list :).
If you have kids this is a wonderful book.

Source: My sister bought this book for her grandson, and I read it :). I was not compensated in any way for this review. These are my own PERSONAL thoughts on the book.
pic and bio taken from Goodreads
Ever since his childhood in one of Ohio's most haunted houses, writer director
Drew Daywalt
has been writing escapist fantasy and building worlds of his own. With a degree in Creative Writing, and a concentration in Children's Literature from Emerson College in Boston, Daywalt set off to Hollywood where he spent years writing for Disney and Universal on such beloved shows as Timon & Pumba, Buzz Lightyear, and Woody Woodpecker, and where his animated series The Wacky World of Tex Avery garnered an Emmy nomination.
His first trip into live action landed him studio screenwriting and feature film directing work with such Hollywood luminaries as Quentin Tarrantino, Lawrence Bender, Tony Scott, Brett Ratner and Jerry Bruckheimer.
With an eye toward picture book writing, Daywalt's first book THE DAY THE CRAYONS QUIT, illustrated by Oliver Jeffers, debuted on the New York Times Best Seller's List in June 2013, and has since become a Number One Best Seller.
OLIVER JEFFERS