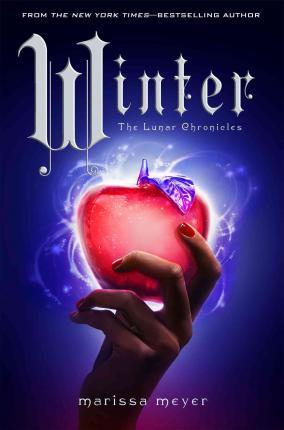 pic and description taken from Goodreads
Princess Winter is admired by the Lunar people for her grace and kindness, and despite the scars that mar her face, her beauty is said to be even more breathtaking than that of her stepmother, Queen Levana.

Winter despises her stepmother, and knows Levana won't approve of her feelings for her childhood friend—the handsome palace guard, Jacin. But Winter isn't as weak as Levana believes her to be and she's been undermining her stepmother's wishes for years. Together with the cyborg mechanic, Cinder, and her allies, Winter might even have the power to launch a revolution and win a war that's been raging for far too long.

Can Cinder, Scarlet, Cress, and Winter defeat Levana and find their happily ever afters?
MY REVIEW / THOUGHTS:
I don't even if I know where to start. I cannot believe this has come to a close. This series has been hands down my favorite retelling of ALL TIME. I love Meyer's books so much I cannot even express it.
I know I cannot say much because too many people haven't finished it, but I can tell you that if you have started the series, this book will NOT disappoint. I love everything about this series. Meyer's writing is absolutely beautiful. Her mind blows me away. Her creativity with the places she takes us to, and the people she brings to life is just beautiful.
We get to meet with all of our favorites again in this book with so much more excitement and anticipation. I do have to admit Wolf is by far my favorite character, and he really came to life in this book. Well besides Cinder of course:). I love them all deeply. I never knew I could love something that wasn't "real" as much as I do. These books rank up with Harry Potter for me. I never thought I would read a series, that made me as happy as Harry Potter, but Meyer did just that for me.
She made a cyborg girl, real. She made a man who had been trained to be a killer, real. She made a poor girl stuck in a satalie blossom. She made a girl from earth find our there is more to the world and helped her find more. She found a thief who she taught how to rely on other people. Every person Cinder came in contact with, that knew her loved her.
I am heartbroken it has come to an end. I wish I could elaborate, but there is nothing worse than someone ruining a book. Just pick this series up. You will NOT be disappointed. Meyer is an amazing author. Her mind, and world is so fantastic, and she draws you in completely. I was fully invested in all these great characters. I cried like a 12 year old girl in this book. I have never wanted a series to keep going as much as this one. Well other than Harry Potter :).
So in my opinion, if you haven't picked up The Lunar Chronicles you are missing out on a fantastic adventure, that will open your heart to a whole new world. Great characters, and AMAZING writing.
Source: I bought this audio book for myself. I was not compensated in any way for this review. These are my own PERSONAL thoughts on the book.
MY RATING:
ABOUT THE AMAZING AUTHOR:
pic and bio taken from Goodreads
I live in Tacoma, Washington, with my fiancé and our two cats. In addition to my slight obsession with books and writing, I'm big on road-tripping, wine-tasting, and hunting for antiques. I'm represented by Jill Grinberg.
CINDER, my debut novel, is a futuristic re-envisioning of Cinderella in which Cinder is a cyborg mechanic. Release date: 3 Jan 2012.