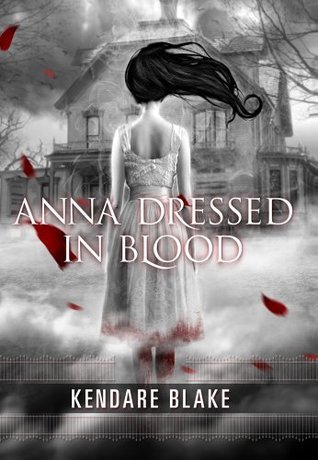 pic and description taken from Goodreads
Cas Lowood has inherited an unusual vocation: He kills the dead.

So did his father before him, until he was gruesomely murdered by a ghost he sought to kill. Now, armed with his father's mysterious and deadly athame, Cas travels the country with his kitchen-witch mother and their spirit-sniffing cat. They follow legends and local lore, destroy the murderous dead, and keep pesky things like the future and friends at bay.

Searching for a ghost the locals call Anna Dressed in Blood, Cas expects the usual: track, hunt, kill. What he finds instead is a girl entangled in curses and rage, a ghost like he's never faced before. She still wears the dress she wore on the day of her brutal murder in 1958: once white, now stained red and dripping with blood. Since her death, Anna has killed any and every person who has dared to step into the deserted Victorian she used to call home.

Yet she spares Cas's life.
Cas is a ghost hunter. He and his mother move around to new places in search of ghosts. Some are ghosts people report seeing and want to get rid of them, and some are ghost Cas happens upon. Cas's mother is a witch, that comes in very handy during some very crucial moments in this book. Cas's late father was a ghost hunter as well, and when he died his weapon called an athame was passed onto Cas.
Cas has been summoned to another town that is haunted by a horrible ghost that has been killing people for 60 years. Anna.
Cas's introduction to Anna was by a group of people at a party he went to "to get to know" people. Cas starts asking questions about if the town is haunted (which he knows it is, but he wants to gather as much info as possible). The kids start going on about this house that is haunted by a ghost they call Anna Dressed in Blood. The kids tell Cas that once someone goes into Anna's house they never come out. A few town Jocks and a friend he just met decide to drive to Anna's house to scare Cas.
What follows is an interesting story. This book kept me on my toes. I wish I could say it scared the pants off me, but it didn't. Although it was a really, really good book. Once Cas meets Anna, the whole town seems to be turned upside down. Cas cannot figure out what makes Anna the way she is. She is a killing machine.
While Cas has faced Anna she proves to be far more difficult to kill than he planned on.
I cannot even say much more, because I know I will give too much away. I don't know if it was because I listened to it, and the narrator sounded very young, but it wasn't nearly as scary as I thought it would be. It was more suspenseful. It was very well done. I enjoyed it from the minute I started and it was always hard to turn off.
If you like "ghost" stories this will be a great one to pick up and read. There is a lot going on in the book. It's a lot of fun to follow. I am anxious to see what the next installment brings :)!
Source: I bought this audio book for myself. I was not compensated in any way for this review. These are my own PERSONAL thoughts on the book.
Content: There is some swearing and If I remember correctly the f-bomb is used a couple of times. Not excessive. It didn't take away from my enjoyment of the book.
MY RATING:
pic and bio taken from Goodreads