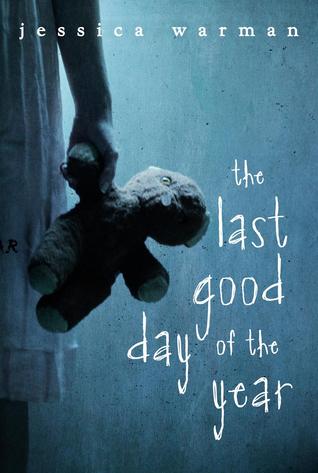 pic and description taken from Goodreads
A new powerful thriller from the globally-embraced author of Between.
Ten years ago, in the early hours of New Year's Day, seven-year-old Samantha and her next door neighbor, Remy, watched as a man broke into Sam's home and took her younger sister, Turtle, from her sleeping bag. Remy and Sam, too afraid to intervene at the time, later identified the man as Sam's sister Gretchen's much older ex-boyfriend, Steven, who was sent to prison for Turtle's murder.
Now, Sam's shattered family is returning to her childhood home in an effort to heal. As long-buried memories begin to surface, Sam wonders if she and Remy accurately registered everything they saw. The more they re-examine the events of that fateful night, the more questions they discover about what really happened to Turtle.
Master storyteller Jessica Warman keeps readers guessing in this arresting page-turner.
MY REVIEW / THOUGHTS:
I love "scary" books. I think this one hit the nail on the head. It's not exactly "scary" as in "AHHH" scary, but it definitely is creepy, and mess with your mind scary. Make sense????
This family has gone through so much. Especially Sam.
Sam and her best friend Remy were shoved downstairs with the "little" kids while their parents were upstairs partying and celebrating New Years Eve. The kids are overwhelmed by the smoke and noise coming from the upstairs. They can hear every word their parents are saying, and are appalled by the things coming out of their mouths.
Sam and Remy have fun playing downstairs but when it's time to go to sleep Sam gets so irritated with her sister Turtle. Sam just thinks her little sister is so annoying and is a little mean to her at times. Turtle starts crying after Sam pinches her and Sam finally feels guilty enough to tell her she loves her and settles her down. Sam and Remy wait till Turtle falls asleep and then they vow not to go to sleep until Midnight.
Of course Remy falls asleep right away, and Sam is left awake. She hears a noise and sees someone outside her house standing in the snow. He's dressed like Santa. Something starts to seem a little off with Sam, and she starts to feel anxious. Soon the man dressed as Santa starts walking towards the house, and Sam freezes. She shuts her eyes and pretends she's asleep hoping the man will go away. When he opens the door to the basement, she stays still and watches as the man dressed as Santa takes her little sister and walks out the door.
The whole family is turned upside down. They move away hoping to start over. Unfortunately things didn't work as planned and the family had to return to their home. Back where tragedy struck their family. When the family moves back this book is madness I say....Madness :). If the beginning doesn't grab you then when the family returns it will. The lives, and lies that are changed keep coming and coming and coming. The way the ending comes about, just about blows me away.
Seriously this book was a little mind boggling! I cannot even imagine my child being taken away from me. It's my worst fear...for real! Of course I think it's every mothers fear. This story is just good. Right till the end....and even at the end.....Dang... It's just good. Well in my opinion :).
If you like creepy, mess with your mind, mystery, then this is a great book to pick up.
Source: I bought this book while I was out browsing for books..hehe. I saw the cover and said "this looks creepy". Yup the cover made me buy it (yes, made me!) :). Any how....I was not compensated in any way for this review. These are my own PERSONAL thoughts on the book.
MY RATING:
(taken from Jessica Warman's website
here
)
It's hard for me to know what to say here. What do people want to know about me? I don't like dogs with pointy faces or Cajun food. My birthday is 4/17/81. I wear a lot of pink. I have never been camping because I'm very, very worried about getting eaten by a bear.