by Anna Adams, Anna J. Stewart, & Melinda Curtis
Clean Contemporary Romance
Paperback & Ebook, 202 pages
November 1st 2014 by Harlequin Heartwarming
Discover the magic of Christmas Town, Maine!
Three lonely strangers come to Christmas Town, Maine, and find love with three Banning siblings in the town that celebrates the holidays by decorating its square with lights and ribbons and a holiday pageant on Christmas Eve. Tradition has it that a kiss beneath the mistletoe that night means marriage for the couple in the new year.
The Christmas Gift by Anna Adams:
Jack Banning promised to support the mother of his unborn child… But she doesn't need money, she only needs him.
The Christmas Wish by Anna J. Stewart:
Callie Banning's student has declared war on Christmas, so it's up to her to help the little girl—and her widowed father—believe again.
The Christmas Date by Melinda Curtis:
Gina Vernay is about to meet her online mystery date…and she's in for the surprise of a lifetime!
Amazon - Barnes & Noble - Harlequin - iTunes
EXCERPT:
CALLIE BANNING LAID her head on her desk and banged it three times, once for each of the phone calls she'd gotten in the past half hour. If one more person asked for her help...
"Miss Banning?" The baritone brogue that accompanied the knock on her
second-grade classroom door should have been the last straw.
Callie shot up in her chair, the blush suffusing her cheeks blazing hot enough to set all of Christmas Town, Maine, on fire. It was all she could do not to mouth the word wow as a man stepped into—and took over—the room.
"Is this a bad time?" The combination of sympathy and amusement shining in green eyes, along with the tamed Irish lilt, called to mind fields of clover dotting rolling hills. She'd spent many a night and more than a few days dreaming of traveling to the Emerald Isle. Now it seemed as if Ireland had come to her.
"Shoulder-length, golden-streaked hair brushed the worn leather of the bomber jacket he wore over snug jeans, the hint of a plain white T-shirt peeking from under the collar.
"Mr. Galloway." Callie stood up so fast she sent math tests flying. The pages fell like scattered snowflakes to blanket the linoleum floor and Mr. Galloway's snow-dampened boots.
"Why do some Fridays feel like Mondays?" Callie bent to gather the tests. "But at least with Fridays, you get the weekend to recover." Babbling, Callie. You're babbling.
She did the crouch and scoop around the desk, holding math tests against her chest until she plowed headfirst into his knees. Strong, firm hands gripped her arms and pulled her up, holding her steady as she found her footing. "Thank you," she said as he placed the last of the tests on her desk.
"I have a feeling it's the least I can do." The soft smile that curved his lips tied knots of tension in her belly as she set her stack of papers down. "What's Eliza done?"
Anna Adams wrote her first romance in wet sand. The Atlantic Ocean washed it away, but Anna kept going. Her stories are of love, like the proverbial stone in a lake, making ripples that spread and contract and involve. From Iceland to Hawaii, and points in between, Anna and her own hero share with children and family and friends who've become family. All this living and loving gives Anna plenty of fodder for stories of love set in real life. Come along and live them with her!
Anna J. Stewart can't remember a time she didn't have a book in her hand or a story in her head and credits her mother never saying no to a book for turning her into a writer. Anna lives in Northern California with an overly attentive cat named Snickers and is happiest when setting her heroes and heroines on their road to happily ever after amidst family, fun and laughter.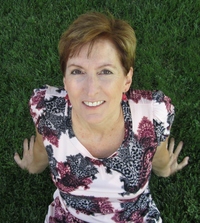 Melinda Curtis grew up on an isolated sheep ranch, where mountain lions had been seen and yet she roamed unaccompanied. Being a rather optimistic, clueless of danger, sort she took to playing "what if" games that led her to become an author. She spends days trying to figure out new ways to say "He made her heart pound." That might sound boring, but the challenge keeps her mentally ahead of her 3 kids and college sweetheart husband.
- Gift Card Prize Pack: $20 Amazon gift card and ebook of Christmas, Actually (open internationally)
- US Prize Pack: Paperback of Christmas, Actually and three Christmas ornaments (US only)
- 3 ebooks of Christmas, Actually (open internationally)
a Rafflecopter giveaway