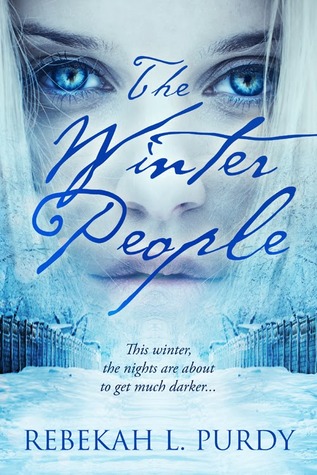 pic and description taken from Goodreads
Salome Montgomery fears winter—the cold, the snow, the ice, but most of all, the frozen pond she fell through as a child. Haunted by the voices and images of the strange beings that pulled her to safety, she hasn't forgotten their warning to "stay away." For eleven years, she has avoided the winter woods, the pond, and the darkness that lurks nearby. But when failing health takes her grandparents to Arizona, she is left in charge of maintaining their estate. This includes the "special gifts" that must be left at the back of the property.
 

Salome discovers she's a key player in a world she's tried for years to avoid. At the center of this world is the strange and beautiful Nevin, who she finds trespassing on her family's property. Cursed with dark secrets and knowledge of the creatures in the woods, his interactions with Salome take her life in a new direction. A direction where she'll have to decide between her longtime crush Colton, who could cure her fear of winter. Or Nevin who, along with an appointed bodyguard, Gareth, protects her from the darkness that swirls in the snowy backdrop. An evil that, given the chance, will kill her.
First off I want to say I am glad I wasn't reading this while on my vacation :). I was surrounded by the woods and probably would have "heard" things while reading this book :).
Salome has been traumatized by a childhood accident that almost took her life. She fell into a frozen pond and was on the verge of dying when a mysterious being saved her. From that point on Salome has been terrified of winter. It causes her hallucinations that make her parents think she might be going crazy. She hears voices that no one else can hear, and begins to think that maybe she IS going crazy.
Salome's best friend Kadie keeps her grounded, most of the time. She is always there for Salome and helps her when she is struggling with her fear of winter.
When Salome's grandparents leave for Arizona and she is in charge of their home. Salome's Grandmother shows her how to do the chores while they are gone, and one seems a little odd to Salome. She must put something "nice", i.e. a watch, a necklaces and other trinkets into a tree once a day.
While performing her chores at her grandparents house she meets Nevin. Purdy makes some pretty sweet swoon worthy men in this novel and Nevin is one of them. He is mysterious, kind, and seems to be interested in Salome. Nevin meets Salome every day when she comes to do her chores, and they develop a relationship. Salome feells all tingly when he is around, and cannot seem to stay away from him. She thinks it's love, but who knows.
Colton is Salome's life long crush and finally one day he asks her out. Colton, is another swoon worthy man. Until you get to know him. He may be handsome and drool worthy but there is more to him than meets the eye. He begins treating Salome differently and he becomes one of my least favorite characters after that.
Gareth, oh Gareth. What can I say about Gareth? I loved him the moment he came into play in a little cafe on a whim with her friend Kadie. Then all of the sudden Gareth is everywhere. Saving her life, going to her school, spending time with her, and being Salome's friend.
This story was so fantastic. I really enjoyed it. Magic, curses, fairies, mystical creatures, and romance to boot. Yes, please. Salome was such a great character. She was damaged, scared, yet had a calling she needed to fulfill. Yet, she couldn't figure out how to do so. Gareth, Nevin, and Colton all seem to be part of the same curse she is suppose to break.
Purdy did a great job of putting me right in the book. Sometimes I think it's funny that I can "feel" a book, but when I am engrossed I really can. It's so wonderful. When Purdy describes the fear Salome is feeling, my heart beat would race. When Purdy described the emotions Salome was going through I could "feel" them myself. When Purdy put the romance on, all I could do was "ahhhhh". Seems silly right? Not to me. To me it just means the author is doing their job at bringing the book to life for me.
There is just enough description and world building to put you "in" the book, but not too much that it gets boring. Salome's life is a fascinating life to follow.
If you like fantasy, romance, magic, deceit, loyalty, friendship, and basically every other emotion when reading a book this book has it all :).
Source: I was given this ARC ebook by the publisher in return for an honest review, which did not influence my review in any way. I was not compensated in anyway for this review. These are my own PERSONAL thoughts on the book.
Content: There is language and use of the "f" word through out the book. There are a few innuendos of sex during conversation, but nothing graphic.
My Rating:
Where to Pre-Order
available for purchase on September 2, 2014
About the Author: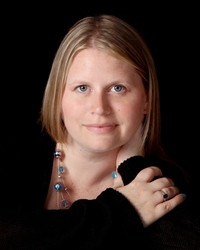 pic and bio taken from Goodreads
I was born and raised in Michigan (just look for the giant mitten on the map—it'll likely throw a snowball at you). I spent most of my time in Michigan, but while in the army got to call KS, SC, MO, and CA home for awhile as well.
As a kid my family moved around a lot. Try spending both your freshman and senior years at new schools (yeah, loads of fun). I could've changed my name to "new girl".
I love writing for teens because those are the years I remember falling in love with most of my favorite books. Some of the authors I couldn't put down were L.J. Smith, Christopher Pike, R.L. Stine, Richie Tankersley Cusick, Joan Lowery Nixon, Lois Duncan, amongst several others.
My husband and I have a large family. There are six kids total! So we have LOTS of fun on vacations (although hours on the road, cooped up in the Expedition is kind of stressful—although we pass the time with MAD LIBS and hoping no one gets carsick).
Some fun facts about me:
My first real crush was on Luke Skywalker (LOL—hey, I was like 8 years old and it came out before I was born).
I'm obsessed with several TV shows/Movies: The Vampire Diaries, Lord of the Rings, Star Wars, Sean of the Dead, The Sing Off, Ghost Hunters, Destination Truth, True Blood, Being Human, Fact or Fake, and all the cake designing ones! Oh and all the spoof movies!
I still own all the books I bought as a kid/teen.
I have a hankering for chocolate (like all the time, seriously. If my arm was made of it I'd chew it off).
Celebrity crushes: Johnny Depp (woohoo), Taylor Lautner (okay, I know he's kind of young for me), Ian Somerhalder (ooh, he's just right. We're the same age). Wow, this was like a Goldie Locks and the Three Bears moment. Johnny Depp too old, Taylor Lautner too young, Ian Somerhalder—JUST RIGHT.
In my spare time I like to write (obviously), read, sing, hang out with my kids, play with my animals, camp, play soccer, check my email (hehehe), watch football (go LIONS). I also love hanging out with my sister and hubby!
Look forward to chatting with everyone! And if you're lucky, I'll break out the opera voice and chase you around singing!
Thanks to Entangled Teen for this opportunity: