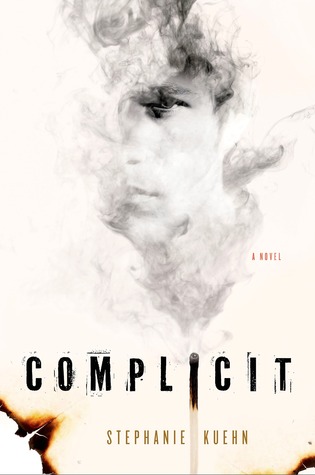 pic and description taken from Goodreads
Two years ago, sixteen-year-old Jamie Henry breathed a sigh of relief when a judge sentenced his older sister to juvenile detention for burning down their neighbor's fancy horse barn. The whole town did. Because Crazy Cate Henry used to be a nice girl. Until she did a lot of bad things. Like drinking. And stealing. And lying. Like playing weird mind games in the woods with other children. Like making sure she always got her way. Or else.
But today Cate got out. And now she's coming back for Jamie.
Because more than anything, Cate Henry needs her little brother to know the truth about their past. A truth she's kept hidden for years. A truth she's not supposed to tell.
Trust nothing and no one as you race toward the explosive conclusion of this gripping psychological thriller from the William C. Morris Award-winning author of
Charm & Strange.
I bought this book a while back after reading some pretty great reviews on it. I had heard it was a "scary" book, and that made it even more intriguing to me. I just want to reiterate before I go on, not all books are for all people.
I really had a hard time getting into this book. I don't usually trudge through books...I mean I really don't, BUT I had heard so many great things about this book, I kept reading to see what all the hype was about.
I am sad to say it took till almost the middle of the book when I was finally like, "Oh, here it goes".
Jamie and Cate's story was messed up. I don't know how else to put it other than "messed up". Damaged maybe? Cate seems to be a vengeful girl taking advantage of other and having a fiery temper. Jamie, seems kind of normal at the beginning other than his hands going dead all the time. Something to do with trauma.
When the story unravels I understand why Jamie is the way he is, but I DID NOT see the ending coming. That was a great surprise.
I wish I would have LOVED this one but I didn't. The ending was FANTASTIC...but I still never connected with any of the characters. The writing was beautiful, and interesting to read. I can see where the author was going with this, but unfortunately I didn't connect until the end....and then it was over.
It's an interesting psychological mind trip, I can tell you that.
I liked it well enough to finish, so that is a good thing. I loved the end of the book. I loved the writing. I just didn't love that I personally couldn't connect with the book.
Source: I bought this book for myself. I was not compensated in any way for this review. These are my own PERSONAL thoughts on the book.
pic and bio taken from Goodreads:
I'm a YA writer who grew up in Berkeley, California, which is a quirky sort of a place with a ton of wonderful bookstores. My very first job was working in one of those bookstores.
Passions of mine include mental health advocacy, social justice, and sports of all kinds. I currently live in Northern California with my family and our wild menagerie of pets. CHARM & STRANGE and COMPLICIT are out now. DELICATE MONSTERS will be out in 2015.
If you have any questions, please contact me via my website (stephaniekuehn.com). Thank you!