pic and description taken from Goodreads
Every Dark Corner is the nail-biting new thriller from Sunday Times bestseller Karen Rose, and Book 3 in the Cincinnati series, following on from Closer Than You Think and Alone in the Dark.
When FBI Special Agent Griffin "Decker" Davenport wakes from his coma, he is desperate to find the missing children he knows are in danger. At the end of his last investigation, when he thought it was all over and justice had been served, he discovered that not everyone had been rescued, but he was shot before he was able to tell anyone.
Special Agent Kate Coppola has recently moved to Cincinnati. She says she's chasing a promotion but she's actually running away from heartache. She's found the recordings from Decker's time undercover and has been at his side in the hospital while she tries to put together the pieces of the crime he was investigating—and what connection it has to his own mysterious past.
When someone tries to kill Decker in his hospital bed, he and Kate realizes that the children are not the only ones whose lives are threatened, and that they must stop at nothing to hunt down the perpetrators. And danger is waiting in every dark corner.
** might be spoilers if you haven't read the first two **
I have loved every book in this series. They are so awesome and the narrator is becoming a favorite of mine.
In book three we get to revisit all of my favorite characters from the previous books, but get introduced to a new fabulous character. Special Agent Kate Coppola.
Kate has recently moved to Cincinnati and is on her first case. Which happens to be Special Agent Decker's case also, or is connected....HOW????
Kate shoots Decker thinking he is someone else, and in so doing puts him in a coma. While she sits by his bed after finding recordings from his undercover work, she finds that she is fascinated with this man who she has never spoken to. She wants him to wake up so he can make sense of what is going on in the recordings. Decker in his comatose state can hear Kate and feel her touch and it only gets steamier from there :).
While Kate is away someone tried to kill Decker in his hospital bed. This makes Kate realize that there is more to her case than meets the eye and Decker might have the answers.
Decker is moved to a safe house where Kate also stays until she can move into her apartment. Convenient? I say YES :).
Decker and Kate grow closer and closer as they work on their case together. Kate finds out that there is more to the investigation than she previously thought. There are children in danger, videos being made, nurses, students and drug addicts are dropping like flies.
Finding how they connect to each other is difficult enough, without their lives being in danger also.
I could not put my ear buds away on this one. I have loved Rose's writing. Her world and character building. I love how her writing pulls me in from the first sentence to the last sentence. I love how she surprises me around every corner in this book. Thanks Karen Rose for the Cincinnati thrillers. They were amazing!
Content: Language, and very descriptive sex scenes - I would consider it a very Adult book
Source: I bought this book on Audible for myself. I was not compensated in any way for my review. These are my own PERSONAL thoughts on the book.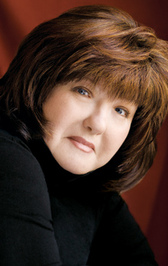 bio and pic taken from Goodreads
Internationally bestselling, RITA-award winning, author Karen Rose was born and raised in the Maryland suburbs of Washington, DC. She met her husband, Martin, on a blind date when they were seventeen and after they both graduated from the University of Maryland, (Karen with a degree in Chemical Engineering) they moved to Cincinnati, Ohio. Karen worked as an engineer for a large consumer goods company, earning two patents, but as Karen says, "scenes were roiling in my head and I couldn't concentrate on my job so I started writing them down. I started out writing for fun, and soon found I was hooked."
Her debut suspense novel, DON'T TELL, was released in July, 2003. Since then, she has published fifteen more novels and two novellas. Her seventeenth novel, ALONE IN THE DARK, will be released in 2016.
Karen's books have appeared on the bestseller lists of the New York Times, USA Today, London's Sunday Times, and Germany's der Spiegel (#1), and the Irish Times, as well as lists in South Africa (#1) and Australia!
Her novels, I'M WATCHING YOU and SILENT SCREAM, received the Romance Writers of America's RITA award for Best Romantic Suspense for 2005 and 2011. Five of her other books have been RITA finalists. To date, her books have been translated into twenty-four languages.
A former high school teacher of chemistry and physics, Karen lives in Florida with her husband of more than twenty years, her two daughters, two dogs, and a cat.