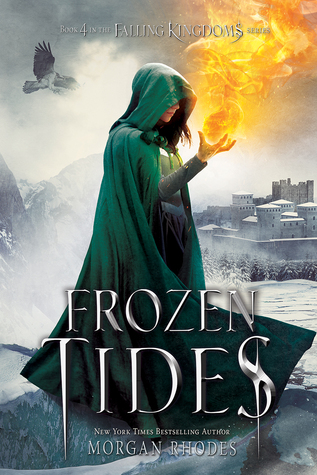 pic and description taken from Goodreads
Rebels, royals, and monsters wage war over the Mytican throne in the shocking fourth book of the Falling Kingdoms series, from New York Times bestselling author Morgan Rhodes.
CLEO:
Reeling after a bloody showdown in Limeros ending with Amara's abduction of the water crystal, and a vacancy in the Mytican throne, Princess Cleo must cast aside her feelings and look toward her kingdom with the eyes of a Queen.
MAGNUS:
With the kingdom in chaos, Princess Lucia still missing and quite possibly in danger, and a shocking realization about Cleo, the steely prince is once again torn between love and duty, leaving him wondering whether he's strong enough to rule his people.
LUCIA:
The young sorcercess has had her vengeance after the cruel death of her first and only love. Heartbroken and unable to trust anyone, she allies with the awoken Fire god, who also seeks revenge.
JONAS:
After escaping death by the skin of his teeth, the defeated rebel—along with a mysterious stranger–leader reunites with Princess Cleo, only to find himself a mere pawn in a dangerous hunt for the elusive Kindred.
KING GAIUS:
Abandoned by Melenia and betrayed by his own children, Gaius flees Mytica and sails to Kraeshia, where he attempts to ally with the famously brutal emperor across the Silver Sea.
*** may be spoilers if you haven't read the first three ***
I LOVE this series. Love it. This is another example of a series that just keeps getting better with each book. I felt like I was settling in with old friends, and old enemies.
I am seriously attached to some of these, yet some just keep disappointing me. I can never tell which one is good and which one is evil. Ones I want to hate, I find myself not hating them as much as I use to....Oh this story is so AMAZING!!!
Cleo: I don't even know what to think of her right now. She is so frustrating! Being married to Magnus has not made her less frustrating but more. hehe. Magnus and Cleo may have to face death when King Gaius returns to Mytica, for treason. I cannot wait to see how this story continues!
Magnus: Gosh! He is such a great character to have a love/hate relationship with. He is evil, then kind, then evil. He just cannot make up his bi-polar mind on what type of man he wants to be. But he is such a fascinating character. He is so complex. Which is why I don't know whether to love or hate him. :).
Lucia: Let just say she puts a whole new spin on the word CRAZY. There may even need to be a new category for her crazy. She makes me mad on so many levels, which I think makes for some great writing. When an author can bring so many feeling out of me, it just brings the character more to life for me. Rhodes definitely knows how to write crazy character :).
Jonas: I still love him. I loved him from the very beginning. I have wanted to smack him on the side of his head several times, for being so oblivious to the people, and feeling around him. BUT, he is such a great character. He may be the only "good" guy in this whole series....BUT #2 the series is not over, and he has time to be a love/hate character as well. No one is safe in Rhodes books :). I mean that in the best possible way! Every character fascinates me because I never know where their choices are going to take them.
King Gaius: EVIL. Evil....Evil. There is absolutely no question what this so called King is. Evil might be even too kind a word to use for him. I loathe this character. Which again makes for some awesome writing! I mean Rhodes did such an amazing job with all of her characters. I, don't even know how to put my feeling for this character into words other than EVIL!
There are some awesome side characters in this book as well. The whole series is full of them. I love the world that Rhodes has built in these novels. I love the struggles. I love the triumphs. I love everything about this series, and this book especially. I am anxiously awaiting the next novel in the series. I hope it keeps up it's momentum, and finishes strong.
Well done Rhodes.....Well done!
Source: I bought this audio book for myself. I was not compensated in any way for this review. These are my own PERSONAL thoughts on the book.
WHERE TO BUY:
ABOUT THE AWESOME AUTHOR: