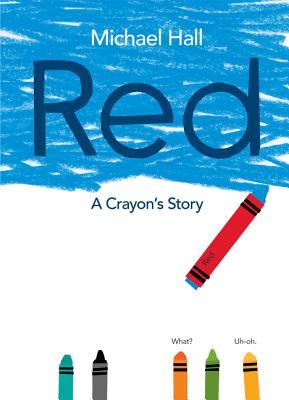 pic and description taken from Goodreads
Red has a bright red label, but he is, in fact, blue. His teacher tries to help him be red (let's draw strawberries!), his mother tries to help him be red by sending him out on a playdate with a yellow classmate (go draw a nice orange!), and the scissors try to help him be red by snipping his label so that he has room to breathe. But Red is miserable. He just can't be red, no matter how hard he tries! Finally, a brand-new friend offers a brand-new perspective, and Red discovers what readers have known all along. He's blue! This funny, heartwarming, colorful picture book about finding the courage to be true to your inner self can be read on multiple levels, and it offers something for everyone!
I know I have said this before, but I LOVE children's books. They just make me happy. I love going to the store and finding new ones each time I go.
This is such a sweet story about about how to love yourself no matter who or what you are.
Red crayon cannot seem to color right. His label says he is red, but when ever he tries to do anything it turns out blue.
Everyone tries to help him be red, but no amount of coaxing will help him be red. When red finds a new friend, his new friend helps him understand that he was never red to begin with. He was indeed blue.
Such a sweet book. It didn't matter to his friends what color he was, they all just wanted him to be happy.
Source: I found this book while shopping at Barnes & Noble. I was not compensated in anyway for this review. These are my own PERSONAL thoughts on the book.
pic and bio taken from Goodreads
Michael Hall is the creator of the nationally best-selling picture book My Heart Is Like a Zoo, as well as the acclaimed Perfect Square. He is the co-owner and principal designer at Hall Kelley, Inc., and lives with his family in Minnesota.