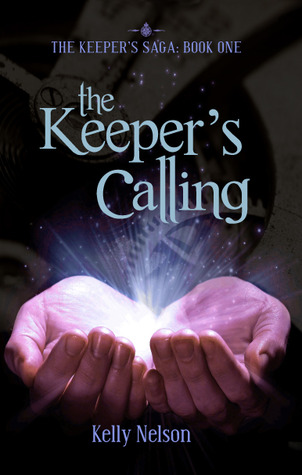 pic and description taken from Goodreads
Chase Harper's to-do list for senior year never included "fall in love" and "fight for your life," but things rarely go as planned. Tarnished gold and resembling a pocket watch, the counter he finds in a cave during the summer of 2011 will forever change the course of his life, leading him to the beautiful Ellie Williams and unlocking a power beyond his wildest imagination. In 1863, Ellie Williams completes school in Boston and returns to the Utah Territory only to discover that her grandfather and his counter, a treasured family heirloom, are missing. When Ellie is abducted and told she must produce the counter or die, an unexpected rescuer comes to her aid.
Let me start by saying I LOVE LOVE LOVE audio books. It's so nice to be able to listen to a book to distract me from the every day jobs of being a mom :).
This book grabbed me from the very beginning! Chase and his family go on a camping trip and while there Chase decides to go on a bike ride, he find himself in a cave. Inside this cave he finds what looks like a pocket watch. Well we all know looks can be deceiving. Chase is swept from the present and finds himself in 1863.
I love stories about time travel, and I love the twist this book had. Chase seems to be on track for his Senior year in High School, until that fateful camping trip. Now he has found his life turned up side down. Responsible for a counter that gives him the ability to time travel, along with a girl he now feels he needs to protect.
Chase finds out that there is quite a responsibility in holding this counter. He seems to be finding himself in a lot of trouble over and over. Someone is seeking the item he has found. He has to find a way to keep it safe and out of the hands of those who would want to do evil with it.
I love this story. Chase is such a swoon worthy guy! Handsome, lovable, and a gentlemen to boot. He loves his family and will do any thing to protect the new girl Ellie that has entered his life. She is also in danger because the counter use to belong to Ellie's grandfather.
The story moves well, and Nelson brought the past to life for me. I love that. I felt like I was traveling through time right along with the characters. How fun would it be to be able to go back in time to where you wanted to see things happen. I t would be so fascinating to me.
Chase finds that he has feelings for Ellie, but has to keep them on the down low. I love Ellie. She was so cute. The way Nelson wrote her part is awesome. A girl transported into the year 2011 from 1863 was fun. She had to get use to the new things. Like a dishwasher. hehe! I cannot imagine not having one, but reading Ellie's point of view was awesome. Made me think about how thankful I am for modern convinces ;).
The struggle to keep Ellie safe along with the counter is quite the ride. What I love even more about this book was that it was clean and written so beautifully. This book has suspense, time travel and a romance to boot. It was AWESOME! I enjoyed every moment of this book.
I hope that you take the opportunity to read or listen to this wonderful book. I will be listening to it again with my son. I know for a fact he will love this book! Which makes me like it even more. A book that gets my son who refuses to read interested is TOP NOTCH to me.
I cannot wait for the next book to come out. I will definitely be picking that one up!
Source: I was given this book by the author in return for an honest review. This did not influence my review in any way. I was not compensated in any way for this book. These are my own PERSONAL thoughts on the book.
5 out of 5 hearts!
ABOUT THE AUTHOR:
pic and bio taken from Goodreads
Kelly Nelson was raised in Utah and now resides in the heart of the beautiful Pacific Northwest. She enjoys life on a ten-acre horse property with her husband, four children, and of course lots of horses. Kelly has a bachelor's degree from Brigham Young University and worked as a CPA for several years before opting to stay home and raise a family. As a young girl she was an avid reader and had a passion for creative writing. Her travels to England, France, Egypt, Israel, West Indies, Mexico and across the United States sparked a love of history, adventure and exotic places. This led to the inspiration behind her debut novel, The Keeper's Calling, Book 1 in The Keeper's Saga.