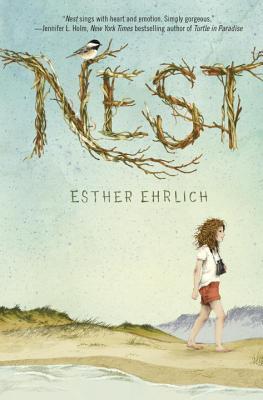 pic and description taken from Goodreads
For fans of Jennifer Holm (
Penny from Heaven, Turtle in Paradise
), a heartfelt and unforgettable middle-grade novel about an irresistible girl and her family, tragic change, and the healing power of love and friendship. In 1972 home is a cozy nest on Cape Cod for eleven-year-old Naomi "Chirp" Orenstein, her older sister, Rachel; her psychiatrist father; and her dancer mother. But then Chirp's mom develops symptoms of a serious disease, and everything changes.
Chirp finds comfort in watching her beloved wild birds. She also finds a true friend in Joey, the mysterious boy who lives across the street. Together they create their own private world and come up with the perfect plan: Escape. Adventure. Discovery.
Nest
is Esther Ehrlich's stunning debut novel. Her lyrical writing is honest, humorous, and deeply affecting. Chirp and Joey will steal your heart. Long after you finish
Nest,
the spirit of Chirp and her loving family will stay with you.
This is just such a sweet story. I found myself connected to Chirp right away. I know she was only in sixth grade, but as a mother I connected.
Chirp's mom is her hero. She loves her with every once of her being. The connection between Chirp and her mom is palpable. It was amazing. The writing is just so beautiful. I was right there with Chirp through the whole book.
Chirp's family, her sister Rachel, her mother Hannah, and father Dr. Orenstein are very close. When Chirp's mother is diagnosed with MS the dynamic of the family changes dramatically.
Hannah has a very hard time with her diagnosis, and gets every depressed. She only sleeps, and barley eats. She was a vibrant woman, a dancer, and Chirp's hero. Chirp all of the sudden finds herself trying be the adult and lift the spirits of her mother.
The book just gets so sad. I cannot image how hard it was on Rachel and Chirp to see their mother going through such a hard time. One day they come home and their mother is no longer at home. Their father had put her in a mental health institution.
Depression is such a real thing. This book touches on some hard topics, especially for a little girl to go through. Chirp always seems so strong.
Joey is Chirps neighbor and she isn't too sure about him, but they develop a sweet friendship. Well one that is a love hate relationship, and actually kind of funny. I love that Joey watches out for Chirp. He is a punk kid, but is the best friend he knows how to be for a sixth grader.
When something very traumatic happens in Chirps family she decides to run away, and Joey goes with her. Joey's life isn't rainbows and butterflies either. His father is a horrible person. He isn't discussed as a specific character, but as a background, and he is mean, and horrible. My heart aches for Joey.
There are so many situations in this book, that I was over powered sometimes with emotion about what these kids have to go through. The situations were so grown up, but so important for children to recognize.
Chirp is my favorite character by far. She is sweet, determined, loving, and just an all around good girl. My heart aches for her. I just wanted to crawl into my book and put my arms around her and tell her it would be okay. Silly I know it's just a book. That is how amazing the writing is in this book. I really felt like I was right there the whole time.
Such a sweet story, of family and the trials they go through. A story of heartache and how to recover from it. Such beautiful writing.
Source: Thank you to Penguin Random House Publishing & Netgalley for the opportunity to read this book. I was given this book in return for an honest review. I was not compensated in anyway for this review. These are my own PERSONAL thoughts on the book.
pic and bio taken from Goodreads
Esther Ehrlich's debut novel, Nest, is forthcoming from Wendy Lamb Books/Random House in September 2014. Ehrlich was born and raised in Boston, graduated from Vassar College, and lives in the San Francisco Bay Area with her family.