A themed book tour through
Prism Book Tours
.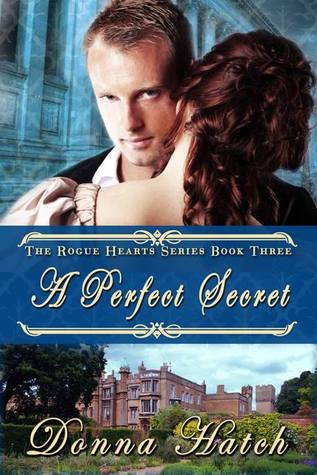 A Perfect Secret
(Rogue Hearts #3)
by Donna Hatch
Adult Historical Romance
Paperback, 348 Pages
December 14 2013
Desperate to protect her father from trial and death, Genevieve breaks off her engagement with Christian Amesbury and marries a blackmailer. After a year of marriage, she flees her husband's violent domination only to have fate bring her back to Christian. Just when she thinks she's started a new life of safety and solitude, her husband tracks her down, stalks her, and threatens everyone she loves.
Still brokenhearted over Genevieve's betrayal a year ago, Christian can't believe she's come back into his life--and worse, that she's done it on the anniversary of his brother's death, a death that haunts him. Though tempted to throw her back into the river where he found her, he can't leave her at the mercy of the terrifying man she married.
When her husband torments Genevieve and puts his family in danger, Christian will do anything to protect those he loves...anything except give Genevieve another chance to break his heart.
====================================================
I am SOOO excited to share this with you! In our house we loves all things Donna Hatch :)...here is my excerpt :)
CHAPTER 1

(Cont'd)
"Let him stay," Jason urged again. "He's not bothering anyone."
Grant let out a snort. "You're too soft on him."
Cole, highest in the tree and holding a paper he'd rolled up into the shape of a spyglass, let out a long-suffering sigh. "You can be the cabin boy. Ahoy there!"
A ship, today.
From his perch on one of the lower tree limbs, Jason leaned down and held out a hand. "Come on up, Chris. I'll help you."
Christian shook his head. "I can do it by myself."
He would prove he could climb just as well as they could—without help. He stood below the lowest limb and jumped, his fingers curling around the branch as he caught it. After swinging his legs, he hooked his ankles around the limb and hoisted himself up.
"I'll bet you can't reach that one," Jared said to Cole, their voices filtering down from above like falling leaves.
"Watch me." Cole inched away from the trunk and tucked his feet below his body. After shifting into a crouch, his legs wobbling a little, he jumped toward an upper limb, and caught it. Within moments, Cole, Grant and Jason began leaping from limb to limb like sailors climbing the rigging of a ship.
Eyeing a branch far away from the others, Christian climbed. He'd jump to that far one, and prove he was as strong and able as the big boys. He ground his teeth against the throbbing pain in his elbow and leg, and hauled himself upward.
"Where are you going in such a hurry?" Jason put up an arm to block Christian's climb.
"Up there." Christian pointed to the isolated branch near the top. "I'm gonna jump to it."
Jason looked up. "That one up there? You're mad."
"I'll show you. Bet you can't jump to it."
Jason let out his breath slowly as he looked up. "That's a long way from the other branches."
Christian nodded. If Jason admitted he could never do it, even on a dare, and Christian did reach it, they'd see how big and brave he was. "I dare you to try."
Jason hesitated.
"You're too scared," Christian taunted. "But I'm not. I can do it."
Grant's voice cut in. "Jason's not scared of anything."
A bead of perspiration trickled down the side of Jason's face and his hand trembled as he wiped it away. He jumped. His body made a graceful arc, his legs straight, his arms reaching outward. The tip of his fingers grazed the coveted branch.
And slid off.
Jason fell.
Christian stared in horror as down, down, down Jason's twisting body plunged, slowly, like one of Christian's nightmares when it becomes impossible to run even when a monster is in pursuit. Someone screamed—a terrible keening noise that rent the air. Jason landed on the ground below with a thud that tore through Christian's body like a lightning strike. Jason lay unmoving.
My passion for writing began at the tender age of 8 and I've been hooked ever since. Of course, I also wanted to be an actress and a ballerina, but one out of three isn't bad, right?
In between caring for six children, (7 counting my husband), my day job, my free lance editing and copy writing, and my many volunteer positions, I manage to carve out time to indulge in my writing obsession. After all, it IS an obsession. My family is more patient and supportive than I deserve.
- Grand Prize:
$20 Amazon gift card and an ebook (INT) or print copy (US Only) of
A Perfect Secret
OR
The Stranger She Married
(winner's choice)
- 5 ebooks
of
A Perfect Secret
- Open Internationally
- Ends July 20th