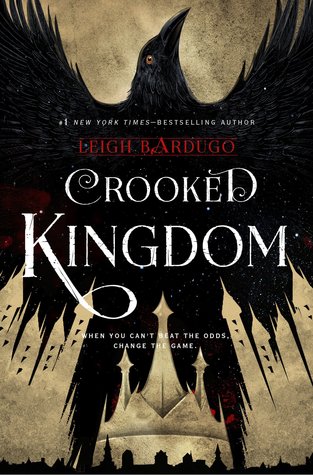 pic and description taken from Goodreads
Kaz Brekker and his crew have just pulled off a heist so daring even they didn't think they'd survive. But instead of divvying up a fat reward, they're right back to fighting for their lives. Double-crossed and left crippled by the kidnapping of a valuable team member, the crew is low on resources, allies, and hope. As powerful forces from around the world descend on Ketterdam to root out the secrets of the dangerous drug known as jurda parem, old rivals and new enemies emerge to challenge Kaz's cunning and test the team's fragile loyalties. A war will be waged on the city's dark and twisting streets―a battle for revenge and redemption that will decide the fate of magic in the Grisha world.
This installment in the Six of Crows series is so, so, so good.
We get to revisit all of these wonderful characters. Kaz and his crew of bandits :). My favorite bandits ever.
In their scheme to get the money they are owed, Kaz comes up with another plan that ends up being dangerous (of course), and has lots of moving parts that could go wrong. Which is when this book gets really, really intense.
I was on the edge of my seat the whole time listening to this book. It took me longer than planned to finish, but that was because I had some books that "had" to be read. I would listen to this in my car, when I was getting ready in the morning, and at night when every one was asleep. I took every opportunity between my "must" reads to listen to this book.
There is so much action in this books, and I grew to love Kaz's crew even more with this book. They may have their issues, but they always have each others backs. True loyalty, which makes their band so much better.
There is dancing on rooftops....okay more like fighting, but dancing sounds better ;). Fighting, blackmail, kidnapping, and non stop action. You will really enjoy this series!!! It was fan freaking tastic. Awesome.
Source: I bought this book for myself. I was not compensated in any way for this review. These are my own PERSONAL thoughts on the book.
MY RATING

:
ABOUT THE AWESOME AUTHOR
:
pic and bio taken from Goodreads
Leigh Bardugo is the
New York Times
and
USA Today
bestselling author of the Grisha Trilogy (
Shadow and Bone
,
Siege and Storm
, and
Ruin and Rising
).
She was born in Jerusalem, grew up in Los Angeles, and graduated from Yale University, and has worked in advertising, journalism, and most recently, makeup and special effects. These days, she's lives and writes in Hollywood where she can occasionally be heard singing with her band. Her new book,
Six of Crows
, arrives fall 2015.
She would be delighted if you followed her on
Twitter
, elated if you visited her
web site
, and downright giddy if you liked
Shadow & Bone
on
Facebook
.