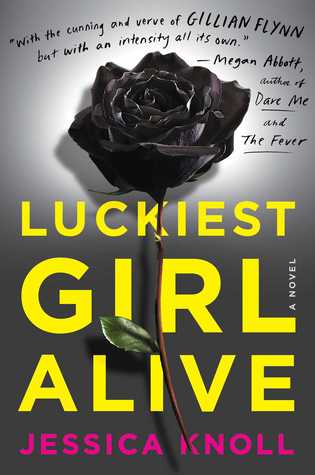 pic and description taken from Goodreads
As a teenager at the prestigious Bradley School, Ani FaNelli endured a shocking, public humiliation that left her desperate to reinvent herself. Now, with a glamorous job, expensive wardrobe, and handsome blue blood fiancé, she's this close to living the perfect life she's worked so hard to achieve.
But Ani has a secret.
There's something else buried in her past that still haunts her, something private and painful that threatens to bubble to the surface and destroy everything.
With a singular voice and twists you won't see coming, Luckiest Girl Alive explores the unbearable pressure that so many women feel to "have it all" and introduces a heroine whose sharp edges and cutthroat ambition have been protecting a scandalous truth, and a heart that's bigger than it first appears.
The question remains: will breaking her silence destroy all that she has worked for—or, will it at long last, set Ani free?
I am going to be completely honest, I almost deleted this book off my audible. I didn't like how graphic it started out. Okay, that might not be all true, but it didn't start out good for me.
I started it, then put it away for a long time. I decided to give it another chance and I am glad I did. This is definitely an ADULT book. That deals with very real, and very hard issues.
Ani thinks her whole life is going to work out now that she has the rich boyfriend, and living the "high life". Many things have happened to Ani, that she never wants to relive. When Ani is invited by a film crew to tell her side of the story of her teenage years, she gladly accepts. She is apprehensive, but she wants everyone to hear her side.
What unfolds in this book is horrifying. I still don't even know how to put it in words. This story deals with issue of rape, and school shootings. It is very graphic at times, and it's a little too real.
This story goes back and forth between past and present. You can feel the pain that Ani went through. You can feel her fear. It's real. It's palpable. It hit way too close to home for me at times.
What this girl goes through is something no woman or man should ever have to go through. School shootings should never happen. Ever. Unfortunately they do. It's horrible that any human thinks that is the only way they can "fix" things. The fact that their own peers make them feel as though there is no reason to live should NEVER happen. Unfortunately it does.
Although this book was very hard for me to read, I thought it was handled well. There are times in the book when you want to scream, cry, and times when you want to crawl into the book and make it better.
I don't quite know how to rate this. It was so good and so bad at the same time. I know that doesn't make any sense, but it is what it is.
Content: There is a lot of language including the 'f" bomb. There is talk of sex, actual sex, rape, and explicit at times, bullying and school shootings.
Source: I bought this book for myself. I was not compensated in any way for this review. These are my own PERSONAL thought on the book.
pic and bio taken from Goodreads
Jessica Knoll has been a senior editor at Cosmopolitan, and the articles editor at SELF. She grew up in the suburbs of Philadelphia and graduated from The Shipley School in Bryn Mawr, Pennsylvania, and from Hobart and William Smith Colleges in Geneva, New York. She lives in New York City with her husband.