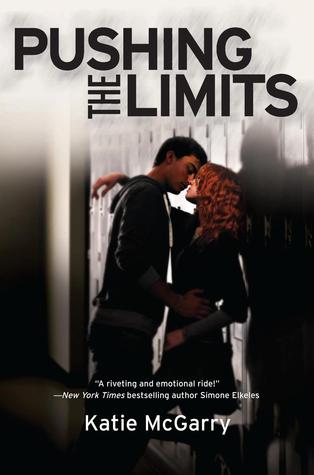 pic and description taken from Goodreads
So wrong for each other …and yet so right.
No one knows what happened the night Echo Emerson went from popular girl with jock boyfriend to gossiped-about outsider with "freaky" scars on her arms. Even Echo can't remember the whole truth of that horrible night. All she knows is that she wants everything to go back to normal.
But when Noah Hutchins, the smoking-hot, girl-using loner in the black leather jacket, explodes into her life with his tough attitude and surprising understanding, Echo's world shifts in ways she could never have imagined. They should have nothing in common. And with the secrets they both keep, being together is pretty much impossible.
Yet the crazy attraction between them refuses to go away. And Echo has to ask herself just how far they can push the limits and what she'll risk for the one guy who might teach her how to love again.
I finished this book about a month ago but haven't had a chance to sit down and write my review until now. This book had many great reviews from some fellow bloggers, so I knew it would be one I would have to read.
Echo Emerson went from "popular" to "freak" over night practically overnight. What caused this downfall, she can't quite remember. She just knows it has to do with the horrible scars on her arms. She hides them, and tries to remember what happen the night she got them.
Echo had an over bearing father, and a mother that was not around. Over bearing, horrible, father married a much younger woman, and life was not very easy for Echo with the "new" wife.
Noah Hutchins, well what can I say. He's the "bad" boy. I think that is why I liked him from the beginning. hehe. Something about bad boys and how "misunderstood" they are. Noah has had a rough life as well, and has his own secrets. Noah is in search of a tutor for some of his classes, and it just so happens that the counselor has appointed him one. Echo.
From their first "meeting" there is something of a spark there. They just weren't quite sure if it was hate, or love. The way their stories unfold is intense.
This was a roller coaster ride through some kids that have some hard issues to deal with, and seem to find in each other the comfort they have been seeking.
I loved how this book unfolded. Echo and Noah's stories are so sad. Two young kids who are forced to face adult issues before they should have to. How they find common ground it pretty wonderful.
Now.....for the stuff I didn't like about the book. The "f" bomb was used too much and there is a lot of sexual innuendo along with some teenage sex. Having said that just as an FYI, I do have to admit I still really enjoyed the book. I just like it when other reviewers give me a "heads up" on that kind of stuff in books.
I cannot wait to read the other books in this series.
Source: I bought this book for myself a while back. I was not compensated in any way for this review. These are my own PERSONAL views on the book.
Content: A lot of language, sexual innuendo, teenage sex, and lots of talk about sex. I personally believe this book is for older teenagers/adults.
pic and bio taken from Goodreads
KATIE MCGARRY was a teenager during the age of grunge and boy bands and remembers those years as the best and worst of her life. She is a lover of music, happy endings, and reality television, and is a secret University of Kentucky basketball fan.
Katie would love to hear from her readers. Contact her via her website, katielmcgarry.com, follow her on Twitter @KatieMcGarry, or become a fan on Facebook and Goodreads.